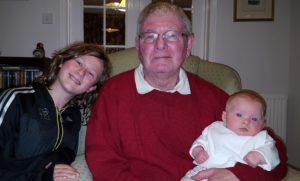 Tempus Fugit.  The Mallorca Training Camp came around a bit quick.  The last couple of weeks flew by.  Suddenly I am here… all the planning is done, all the hotel bookings, airport transfers… Jonesy get ready for a big week.
21 hours of flying from Australia to the UK.  You kind of get used to it over time.  Had the opportunity to stay with my Dad for a couple of nights which is always fun.  My dad is an inspiration.  For those that don't know, he had a massive stroke in 2005.  He's pictured here with my daughters Rhiannon and Sophie.
He's limited in what he can do and say.  However, he knows all the in and outs of cycling (he was a very keen cyclist) - I arrived with 15km to go of the Tour of Flanders.  I don't know, travel half way round the world to see him, and then I have to wait until Philipe Gilbert has crossed the line!  He manages around the house and certainly makes his opinions known (some things don't change!).
Wanting to give him something to do, I bought him a model railway set a few years ago - single track that ran about a 2m round the living room, with a small engine and some trucks… well… may have started something more a kin to the national rail network.  I counted at least ten locomotives, a dozen or so passenger coaches, 20 plus goods trucks!
Whilst down south, I went for a run along the coastline.  Sorry sis... I have absolutely no intention of swimming in there... EVER!
He was a lot shorter in real life
Quick flight to Mallorca, same flight as a former England footballer… who looked a lot shorter in real life...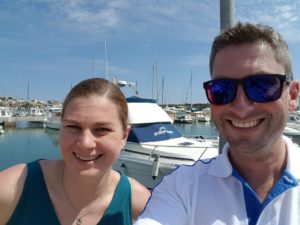 Walked into the Hotel Don Leon, Colonia Sant Jordi and the staff welcomed me with a "Hey Mr Jones, great to see you again."  Even more impressive when you know I hadn't reached the reception desk yet… I don't think my behaviour (or that of any of our athletes) last year was that memorable!
Weirdly, well for this trip anyway, I got to go and meet my sister who was on holiday just down the road in Mallorca.  Nice lunch with Little Sister, who may or may not be taller than me, in a little seaside town of Porto Colom! Who would have thought it.
So we are ready.  Andy and I have said hi to the staff at the Best Swim Centre.  Walked in there to firm handshakes and hugs too!  Hopefully, this will be another epic F4L Triathlon Coaching week.  Vanessa, as ever, is a superstar and has provided everything we need. 
It was a bit whippy on top
Checked out the open water swim areas.  Described as crystal clear, pretty flat but a "A bit whippy on top!"
I think I am probably in for a tough week.  Forget the coaching, the hard graft, the long hours… no no no, it's not that!  
Its this:
I named her Penelope (after Penelope Pitstop).  We hire bikes here.  Orbea is a good brand, the bike has DI2 gears - she rides really well, very comfortable too.  I can handle the pink flashes, but the saddle… I looked down on a recce ride this morning… just pink in all the wrong places.  Who the hell got paid for that design?
The Germans are coming
One of the beauties of running a training camp in a place like this is that you get to watch national teams and coaches work.
In our hotel is the entire German Triathlon Team.  They were here last year with the Olympic hopefuls.  I guess at the beginning of a new Olympic cycle they brought everyone this year for a reboot of the squad.
I have had the opportunity to watch some of their training in the last couple of days.  I guess the biggest thing I have spotted is that they really do their hard stuff 'hard' and their easy stuff, 'easy'.  It sounds obvious and it is something I have drilled into athletes for years, but it is fab to see elite coaches from different countries reiterating it.
So this weekend, back in Australia we have one of the final races of the season.  We have quite a big F4L contingent racing at Hillarys Sprint a few others are racing at Coogee Olympic.  For some athletes this is their final race before Busselton 70.3.  Sprint races are a great opportunity to practice race day preparation, skills and overcoming nerves.  All the juniors are racing, some as a final race prep for the Inter State Schools and others for their final event of the season.  
And so it brings me to another of Jonsey's insights into ITU racing.  This weekend is the ITU World Series event on the Gold Coast.  Based purely on guesswork, logic (although not much of that), race experience and studying the form guide I expect to see the following result:
Ladies:
Jodie Stimpson
Andrea Hewitt
Charlotte McShane
Men:
Javier Gomez
Richard Murray
Mario Mola
**OK, so I wrote this on Friday and of course the race has been when this gets published.  Wasn't too far out with the women 1. Hewitt, 2. Gentle & 3. Ide but the men... 1. Mola, 2. Murray, 3. Alarza & 4. Gomez
Also this weekend is the Formula One Grand Prix in Shanghai, China.  So assuming that the weather allows the race to take place (today's practice was washed out except for 20 minutes this morning) I can see Lewis Hamilton being rather aggressive and looking for revenge on Sebastien Vettel.  I would love to see Fernando Alonso take the win... but I fear this unlikely.  Ok, that last one isn't really a prediction.  For the record: Hamilton, Vettel, Verstappen in that order.
Finally, this weekend is the Masters Golf.  Based purely, on absolutely, no knowledge, I am putting 50 cents on Rory McIlroy to win the green jacket.
Obviously if I am correct I will be offering my services (for a small fee) to predict the lottery numbers this week.