In 2018 F4L Triathlon Coaching will return to the stunning island for our Mallorca Training Camp.  For the sixth year we will be based in the town of Colonia Sant Jordi, which is an idyllic setting in the South of the island.
"Mentally challenging, physically taxing, but infinitely rewarding....a must for anyone interested in triathlon and self improvement. Will be back for sure"
F4L Triathlon Coaching welcome athletes from beginners up to pro-athletes…individuals, groups or clubs. Throughout the week they will look after all your training needs.  Our camp is open to all triathletes who want to have a focused week of triathlon training in a relaxed atmosphere. We will work you hard throughout the week and each session will have a focused objective but we aim to create a fun environment around the training sessions too. It doesn't matter what you are training for; we will create appropriate training for all participants.
Our triathlon coaches will set a training plan for the week - which can be adapted for specific needs or specific races.  Our swim sessions will be working on technique as well as developing your speed and endurance.  The cycling is stunningly scenic and can be testing, taking in some of Mallorca's historic climbs.  Whilst, the some of the running is done on private running trails near to the hotel.  Triathlon is not just about swimming, cycling and running, so it doesn't stop there.  The training week covers a range of subjects from transition technique, strength training, bike efficiency, open water technique, nutrition to name but a few.
2018 Booking Form COMING SOON
Pictures from the 2017 camp here *NEW*
Pictures and endorsements from the 2016 camp here 
Pictures and endorsements from the 2015 camp here
Pictures and endorsements from the 2014 camp here
Pictures and endorsements from the 2013 camp here
Dates: To Be Confirmed ASAP (7 nights) 
Venue: Colonia Sant Jordi, Mallorca
Our Mallorca Training Camp will include:
7 nights half board accommodation in a 4 Star triathlon friendly Hotel Don Leon.
Transfer to and from hotel including bikes.
Coaching with highly experienced and qualified triathlon coaches.
Swim sessions in a 10 lane 50m state of the art swimming pool.
Access to secluded private running trails.
Cycling friendly road riding.
F4L Coaching Triathlon training camp goody bag.
The Training Facilities:
Swimming
We will be guests at the state of the art 10 lane 50 meter swimming pool at the Best Centre. Since opening their doors in July, 2009, they have hosted Triathlon Training Camps for the national teams from Great Britain, Germany, Australia, Spain, Germany, Sweden, Finland and Luxembourg, as well as club teams from across the UK, Ireland, Germany, Sweden, Norway, Denmark, Finland, Belgium, France, China and Canada.
With use of this amazing facility we are able to offer precise swim coaching for triathletes along with the use of underwater cameras and analysis, use of the lecture area and their swim based gym.
We will also make use of some amazing beaches and have easy access to the sea for open water swimming. The facilities for swimming on this camp are second to none .
Cycling
The Island of Majorca is known the world over for the good quality of its roads. With the locals being Triathlon friendly and with mile after mile of stunning terrain to ride you won't be disappointed. We will be making use of some of the islands climbs, descents and flats to improve your cycling and help prepare you for your triathlon season.
Running
As part of our accommodation package we have access to a private park that boasts some stunning off road running trails. These vary in distances and terrain but are fantastic for developing strength on a Triathlon training camp. These along with road running on quiet and scenic roads completes the training facilities available to us.
Coaching
The Mallorca Triathlon Camp is written and delivered by F4L Triathlon Coaching head triathlon coach Paul Jones (British Triathlon Federation Level 3) who has extensive knowledge and experience triathlon training programmes.  Paul will be supported at the camp by British Triathlon Level 3 Coach, Andy Stevens.  The ratio of triathlon coaches to athletes will be kept low to ensure every athlete has time and attention with the coaches. This year we will also be assisted by Tom Wilson (BTF Level 2 Coach).
Accommodation
The 4 star Hotel Don Leon we will be using is triathlete friendly with staff who will be more than happy to serve you and help in any way they can. The hotel is welcoming and comfortable with amazing seas views. Importantly, it also offers a secure area for bike storage.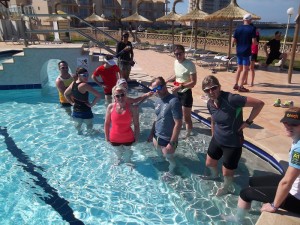 Our hotel includes spa facilities and an indoor gym. Bike storage is available in a large lockable garage at the hotel so your bike will be secure during your stay along with an in house bike mechanic. Drinking water for rides is also available free of charge in the rooms.
There is wi-fi service and the restaurant serves a mix of menu and buffet food of a high standard (and plenty of it!) specifically for athletes on the camp. Everyone on the camp is booked in on a half board basis which means your breakfast and evening meal are included in the package price.  Food at the hotel is a buffet style breakfast and evening meal with a large selection and choice to suit everyone's needs.  Drinks are not included in the package.
With the many restaurants in the town, on the harbour which are only a 5min walk from the hotel, there are many options for eating out should you require.
What's not included:
Flights to and from Palma Airport
Appropriate travel / bike insurance
Beverages at Hotel Restaurant
Lunches
Bike Hire (carbon fibre or aluminum) can be arranged if required (additional approximately £120 for the week)
The Cost

Participant (sharing double or twin room): £TBC
Single occupancy is an additional £TBC
Non-participant (sharing twin or double room): £TBC
£150 (non-refundable) deposit per person required to secure booking (balance due February 2018)
The Triathlon training camp criteria
To attend the Mallorca Training Camp we do ask that you are able to do the following prior to attending the camp….
Swim 400m straight. Our swim sessions will typically be around 60mins during which time the faster lanes will swim upwards of 2500m.
Cycle at least 3hrs on rolling terrain with average speed of 27kph
Run a minimum of 10km in under and hour.
Join F4L Triathlon Coaching for a fun yet hard triathlon training week. For all enquiries please contact us on +61 415 567 9232 or email us: info@f4lcoaching.com
2018 Booking Form COMING SOON