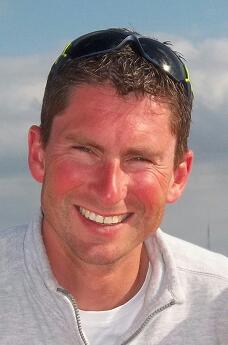 Professional Triathlon Coach Paul has been coaching triathletes for over fifteen years. During that time he has coached athletes to international success.
Paul has coached and trained athletes who have qualified for the Hawaii Ironman, qualified for the 70.3 World Championships, won World Age Group Medals and won European Age Group Medals. Lets not forget to mention the countless Personal achievements by individuals who have got the best out of themselves.
As a triathlete Paul has competed in Triathlon for many years locally and still competes today, although mainly to keep fit.  Highlights in Triathlon competition have been competing for Great Britain at World and European Age Group Level on several occassions.  Prior to taking up Triathlon Paul competed nationally in swimming with swimming personal bests of 56.26 for 100m Freestyle, 1:58.91 for 200m Freestyle and 4:03 for 400m Freestyle.
He is a British Triathlon Level 3 Coach. Using a individualised method of programming as lead triathlon coach of F4L Triathlon Coaching, Paul will personally oversee each triathlon training program, which in turn will be based around key events and peaks to ensure optimum performance for the athlete at the right time.
"Triathlon is a passion, a lifestyle but every individual is different.  What works for one athlete really won't work for another.  Triathlon Coaching is a relationship – it has to go two ways, there has to be communication, the athlete has to feedback.  I commit myself 100% to my athletes… but I expect that back too."
Now based in the Perth Hills, Western Australia where he emigrated with his wife, Helen, and their 11 year old daughter, Rhiannon, in July 2013.  They have just had a baby girl, Sophie, in September 2016.
Favourite quote: "Keep away from people who try to belittle your ambitions. Small people always do that, but the really great make you feel that you, too, can become great." (Mark Twain)
Coaching qualifications:
British Triathlon Qualified Coach (Level 3)
Certified Biomechanics Coach (Level 2)
Sports Coach UK – Equity in your coaching, Protecting Children, Mentoring Sports Coaches
Running Sports – A club for all, Volunteer Management
SAQ Qualified Instructor
NVQ L2 in Exercise and Fitness
Amateur Swimming Association Club Coach Award
Coaching and relevant experience:
Head Coach of F4L Triathlon Coaching
Head Coach of F4L Triathlon Team (Western Australia)
Coached extensively for Alnwick District Triathlon Club (UK)
Lead coach at Tweed Tri Club (UK)
Swim analysis for NE31 Tri Club (UK)
Has worked full time as a professional triathlon coach since 2009
Coached athletes to:

Multiple Qualifiers for Hawaii Ironman
Multiple Qualifiers for World 70.3 Championships
GB World Age Group Qualifications 2010, 2011, 2012, 2013, 2014 and 2015
Australian World Age Group Qualifications 2014 & 2015
Telstra Series overall podiums
European Standard Distance Age Group Champion
European Sprint Distance Age Group Medallists
World Age Group Duathlon Championship Qualifiers
2011 Marbella Middle Distance Triathlon 3rd Female Overall
2011 Mallorca 70.3 8th Female Overall (4th in age group)
2011 Outlaw Triathlon 8th Overall
2011 Ironman Austria age-group finisher
2010 World Age Group Championship Qualifiers (Standard / Sprint / 70.3 Distance)
2010 Lisbon Triathlon 5th overall
Phone:  +61 415 679 232
Email: info@f4lcoaching.com