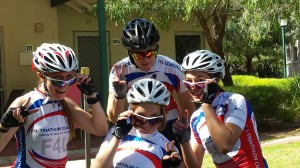 Name:
Caitlin Stanley
How long have you been in Triathlon: 
I have been in triathlon for about 4 months.
Greatest achievement in Triathlon: 
Due to the fact that I am quite new to triathlon, my greatest achievements are yet to come but at this stage, my greatest achievement would riding up Kalamunda hill and surviving the Arulean ride
Greatest achievement outside of Triathlon: 
My greatest achievement outside of triathlon would have to be qualifying and competing at states for the 200m hurdles.
What you love about F4L Triathlon Coaching and what attracted you to us in the first place: 
I love everything about F4L Triathlon Coaching. When I did my first group session I was very nervous to say the least but everyone welcomed my with open arms. The F4L Team which Paul has built up is like a family and I love it. They are so supportive and encouraging. I first saw a flyer for F4L Triathlon Coaching when I was in year 7 at the Saint Brigids College swimming pool. Two years later I actually joined. I had done a few triathlons when I was younger but nothing like this. I was doing athletics when I joined and I initially joined to build up my endurance and core and to continue my swimming but eventually I quit athletics to focus on triathlon. I never really knew why my mum kept that flyer but I'm glad she did.
What are your targets in Triathlon over next two years: 
To be honest, I'm not entirely sure. One of my targets would be to have the times to qualify for inter-state teams. My main target is to improve overtime I do a triathlon. What I mean by this is like getting a faster time, having better changes, being able to push myself further during the race or completing a leg in a better time or with more skill. Just being able to improve with every race.
In one line sum up F4L Triathlon Coaching: 
F4L Triathlon Coaching takes you places you never thought existed.