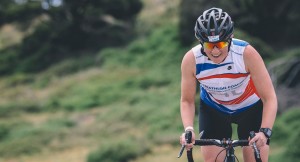 Half Ironman Countdown - Last week I explained about some test that you could do to give you base point for your build up to a half ironman triathlon.  Well this week we will build on that, tell you what you can do with it and perhaps do something about your bum!
So how did your tests go?
Did you manage to swim 400m in under 5min?  Knock out 20km on the bike in under 20min (that would be really impressive!)?  Did you run a 5km in under 20min?
To be honest it does not matter what you achieved... it is your Triathlon journey to the Half Ironman.  
So what are we going to do with the information.  Well, the first thing is we are not going to get too hung up on it.  It is just a guide.  Did you write down how you felt in each of these sessions like I asked?
Did you go off too fast and get slower?  Did you have oodles (technical term) of energy left at the end and feel you could have gone quicker?
From all that information you are going to write down what you would do differently next time.  You will start to learn how to pace yourself through the event.
OK... let's get a bit more specific.  Using the swim as a guide you are going to work through your achievements from last week.  And then use that data, whatever you have, to help your training in the next few weeks.
I am going to make it as simple as possible.  There are more complicated methods out there but to be honest, this blog is about getting you through a half ironman or improving your performance.  If you want more complex answers then you need to sign up to a Half Ironman Training Program
So take your swim time and simply divide the time by the number of 100m that you swam.  This will give you an approximate 100m swim pace for you to work with.  What would be great is if you have splits for your swim.  You can then compare the average time / 100m to what you actually swam.  So for example:
You swam 400m in 6mins - this would give you an average 100m swim of 1min 30sec.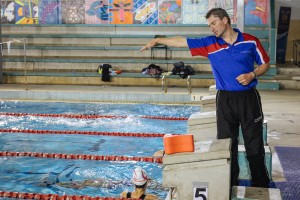 Now what?  
Well to improve your swim time (or bike or run) you need to do some training... sorry... pre-recquisite for a Half Ironman.
How do you train? 
The answer to this comes in many forms.  But it is absolutely not... get in and swim 1800m.  Do the same next week, the week after and the week after that!  A bit like, if you go and run a park run every week... will you get faster?  Yes, to a point... then you will quickly reach a plateau and stagnate.  
You must mix up your training to include a variety of sessions, from shorter intervals to increase your heart rate and load on the body. To hills to increase strength.  To longer slower sessions to provide the base fitness to allow you to train and, not forgetting the tempo sessions which are something in between!  Throughout all of these there is the technique which should be part of EVERY session.  It might only be in the warm up or the cooldown, but it should be in there!
Get your technique right, the speed will come and you will reduce the chance of injuries.
I know you can't do hills in the pool!  You can work on power though... try swimming with a band around your ankles and a t-shirt around the band!  Perhaps swim with paddles... maybe even swim with trainers on!
So now use the data you have from the other tests... again its a guide, do not get too hung up on it.
In a few weeks you can do another test and see if you have improved.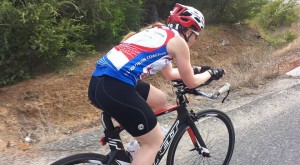 This week you need to put together a plan of how you are going to train for the half ironman.  Start with the date of the event and work backwards.  There are several phases to the training.  Your coach can help you work through these, but things you need to consider include: 
how much time do you have each week?
what is your weakest discipline?
when can you actually swim / bike or run?
how much taper do you need?
did your tests reveal a lack of speed or endurance or both?
These are just some of examples of trying to bring a Consistent, Balanced and Sustainable training plan together.  It is not easy... 
Oh yes, about your butt.  How many of you get a sore bum on the bike?  Well, to a certain extent this is inevitable after spending something like 3 hours sat on a saddle about 1 inch wide... however, you can make it better.  Being on a bike for that length of time you need to be as comfortable as possible.  Not just your touche (that is bottom in french!)... but also your back, arms and neck... so this week as part of your home work, you should get a bike fit done.  I do them so if you are interested... give me a call.  It is essential part of your half ironman preparation, so definitely get one done.
Looking for some Triathlon Coaching?
Paul is a British coach, based in Western Australia.  With over 15 years coaching experience, having athletes qualified for the ITU World age-group championships, Hawaii Ironman, World 70.3 Championships, Challenge Worlds and of course countless personal athlete achievements, it will be worth it. Here at F4L Triathlon Coaching we specialise in half ironman training programs and can help you achieve what you want at your next race.
"I have been involved with F4L Triathlon Coaching & working with Paul Jones as my Triathlon coach for three seasons now, i started out to just complete one triathlon and from there Paul has helped me develop from Sprint distance races to finish Multiple Ironman 70.3 races including international and the huge sense of achievement that goes with it!  The F4L Triathlon Coaching environment is a fun, social and supportive one with everyday people who share a passion for the sport of triathlon, and generally being fit and healthy. If your considering a half ironman triathlon, I recommend the F4L Team to anyone." - Sean