The Triathlon Training Camp facilities are top drawer... and about to get better... 
Your Triathlon Coaches for the camp are very experienced and will work with you to help you get the most out of your stay.  
Our triathlon coaches will set a training plan for the week - which can be adapted for specific needs or specific races.  Our swim sessions will be working on technique as well as developing your speed and endurance.  The cycling is stunningly scenic and can be testing, taking in some of Mallorca's historic climbs.  Whilst, the some of the running is done on private running trails near to the hotel.  Triathlon is not just about swimming, cycling and running, so it doesn't stop there.  The training week covers a range of subjects from transition technique, strength training, bike efficiency, open water technique, nutrition to name but a few.
Swimming
We will be guests at the state of the art 10 lane 50 meter swimming pool at The Best Centre. Since opening their doors in July, 2009, they have hosted Triathlon Training Camps for the national teams from Great Britain, Germany, Australia, Spain, Germany, Sweden, Finland and Luxembourg, as well as club teams from across the UK, Ireland, Germany, Sweden, Norway, Denmark, Finland, Belgium, France, China and Canada.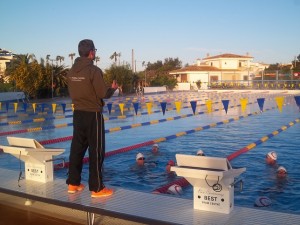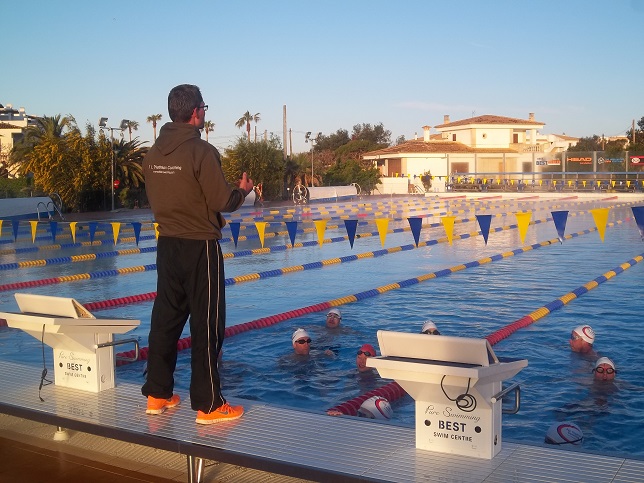 With use of this amazing facility we are able to offer precise swim coaching for triathletes along with the use of underwater cameras and analysis, use of the lecture area and their swim based gym.
We will also make use of some amazing beaches and have easy access to the sea for open water swimming. We even get to swim around some of the little islands just off the shore (weather dependent).  The facilities for swimming on this camp are second to none .
Cycling
The Island of Majorca is known the world over for the good quality of its roads. With the locals being Triathlon friendly and with mile after mile of stunning terrain to ride you won't be disappointed. We will be making use of some of the islands climbs, descents and flats to improve your cycling and help prepare you for your triathlon season.
In 2018 we will be using many of the local roads around the town as well as heading up to some of the iconic climbs in this part of the Island: Randa and San Salvador being just two.  As we try to constantly improve our camps we make minor evolutions each year.  Feedback from the 2017 camp has asked that we include some longer cycling options for the camp... as we say down under, "Too easy!"  Our camp is suitable for athletes doing a variety of events from Sprint distance through to Ironman... we adjust the program depending on what you are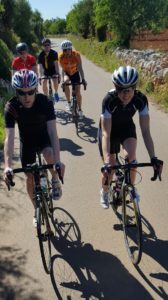 needing and what you are aiming at.   
Running
As part of our accommodation package we have access to a private park that boasts some stunning off road running trails. These vary in distances and terrain but are fantastic for developing strength on a Triathlon training camp. These along with road running on quiet and scenic roads completes the training facilities available to us.
In addition there is a new 400m running track being built in the town of Colonia Sant Jordi.  With several of the national triathlon teams using the area as a base for their early season camps the need to develop the facilities has grown.  During the F4L camp in 2017, the Norwegian ITU squad was in town, as was the German Team, the Swiss ITU squad and several pro outfits including BMC.  We are hoping that the new run track will be ready... but we cannot guarantee it.
BOOK NOW - do not miss out - last few rooms remaining