The 4 star Hotel Don Leon we will be using is triathlete friendly with staff who will be more than happy to serve you and help in any way they can. The hotel is welcoming and comfortable with amazing seas views. Importantly, it also offers a secure area for bike storage.
Our hotel includes spa facilities and an indoor gym. Bike storage is available in a large lockable garage at the hotel so your bike will be secure during your stay along with an in house bike mechanic. Drinking water for rides is also available free of charge in the rooms.
There is wi-fi service and the restaurant serves a mix of menu and buffet food of a high standard (and plenty of it!) specifically for athletes on the camp. Everyone on the camp is booked in on a half board basis which means your breakfast and evening meal are included in the package price. Food at the hotel is a buffet style breakfast and evening meal with a large selection and choice to suit everyone's needs. Drinks are not included in the package.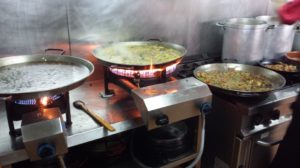 With the many restaurants in the town, on the harbour which are only a 5min walk from the hotel, there are many options for eating out should you require.
One night during the camp we will head out of the hotel as a group to one of the local restaurants near the port.  The paellas and local tapas are amazing.  This tends to be a really fun night out, with plenty of theatre from the chefs.