Clancy describes her Busselton Training Camp
On the 18th of January the F4L Triathlon Team athletes including myself travelled down to Busselton for a triathlon camp.
On arrival I unpacked, very excited and not realising how painful and hard the next four days were going to be. After the fantastic dinner by the blue team, we had a F4L team meeting, got our bandanas and went back to our houses – it turned into a very interesting night after Helen had said she couldn't do her yoga…three minutes later we were all doing the yoga pose "tree" in the living room.
I woke up the next morning with A LOT of energy and excitement while Caitlin was still half asleep  but must say she was a really good roommate! We arrived at swim training and it was a tough session with Paul chucking in a lot of intervals but Trigg made it up with some funny dance moves in the car. Got home, had a shower, and went on our first ride (this is when I realised how hard this camp was really going to be).  We did a steady group ride and then split into small teams of 3 or 4.  This was sooo hard... we were flying!
Just putting this out there but in the effort, everyone got Juniored 😉 We got home and Lee had made us a very delicious lunch including chicken and salad rolls yummmmm. Next, we had a seminar where I learnt a lot about warm up, nutrition, sleep ect. I definitely got a lot out of this.
Next was our run session which included drills, 30 second efforts and 1 minute efforts. Got home and the incredibly amazing red team (my team) made the best meal of camp, Mexican.
Day 3 bought on the next swim session that was tough but I was still feeling good at this point… but alas, then Julie came up with the "magnificent" idea to ride to the light house which included a massive hill to climb up. 75 km later we were all dead on our beds.
All the juniors thought that it would be a good idea to chill and watch a video but 5 minutes later we all fell asleep.
We were woken up for tyre changing practice where I learnt to change a tyre much faster. We then headed of for an Aquathlon that we had thought was a short team event just for those on the camp but ended up being a race at Busso triathlon club's Aquathlon. All of our expressions when we found out we had to race was very funny. (We were so happy!) Cate and I came in 2nd but the whole run (4km) we were wondering how we were going to keep going having eaten Nutella and Cate's drumsticks prior to this session.
We got back with an awesome dinner by the white team (almost as good as red teams), Hamburgers, YUM!
Day 4 was the same as normal with a swim in the morning which, this time I went in Paul's car so we could share the junior car. On the drive I found out how bad the swim set was that he had written down… later that session Paul used the quote of "the set was written in pencil." We ended up doing not as many efforts but lots of skills and technique work. It was pretty clear that all the athletes were tired and Paul altered the session so we all still had fun but got something out of it.  
All the juniors were absolutely stuffed by this stage so, we went for our ride just to the marina and then back home with a stop in at The Fat Duck (Cycle shop in Busselton which doubles as a cafe) for a drink.
When we got home we had lunch and then all the juniors grabbed our go pro cameras and headed off to the jetty which, was definitely a highlight of this trip - I had so much fun with this crazy bunch of people. We also got ice cream and attempted to get Paul one but it ended up turning into a drink in a cone which everyone except Trigg and I had a lick of (I think Paul appreciated the thought).
I might just add at this point that the adults idea of fun was going to get coffee every day, sometimes wearing goggles through drive thru!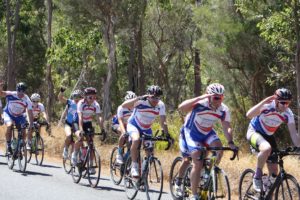 We got home and got straight into the very tough run set and followed by a swim in the ocean for an "ice bath" where we had to deal with a very scary injury - although everyone is ok now - I have taken a lot away from that.
That night we ordered pizza and it was really delicious (almost as good as the red teams meal). I think Cate and I had at least 5 pieces each haha.
Day 5 was our last day and we were ending the camp with a sprint distance triathlon with the Busselton Triathlon Club which, are all very fast and happy people I found out. I had an ok race with a quite saw calf on the bike and run but, I finished strong which I was happy about. We got home from a very good breakfast after the triathlon. We packed up and sadly that meant we were on our way home back to Perth.
This triathlon camp definitely made a lot of fun / interesting memories that I will NEVER forget. Just want to say a massive thank you to coach Paul Jones for making this camp so fun and enjoyable for everyone! And to my team mates thanks for being part of an awesome week not only in training but in having fun!
You can see some of the photos from the camp via the website here... although there are plenty more on our facebook page.