What is Triathlon?
An odd question for a triathlon coach to ask at the start of an article? 
Perhaps. 
So many people think that Triathlon is just swimming, cycling and running.  In my opinion it is so much more than that.  Yes, in its most fundamental form that is what it is...
What is it we see on t-shirts?  Swim like the boat sunk... ride like you stole it... and run for your life!  If you do that all the time then to be honest Triathlon is a suicide mission.  
It is not sustainable.  So what is triathlon?  
Well for one it is a sport as a whole - not swimming, cycling and running... but Triathlon.
"I want you to take part in it... Everyone runs in her own way, or his own way. And where does the power come from, to see the race to its end? From within." - Eric Liddell (from the film Chariots of Fire, 1981)
But Triathlon gives us so many other things in life: 
Its a great way to lose weight or boost self confidence.  And of course there are those all important bragging rights "I did a Triathlon"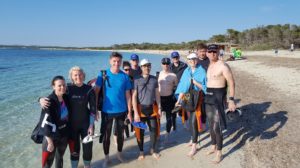 So many other things will also happen when you do Triathlon:
You will change your lifestyle
You will end up physically more resilient - stronger and more balanced after doing three disciplines 
You will find new friends within your club or training group environment
You will be more productive in your day
You will be a role model for someone
You will inspire others
You will end up in a better place psychologically
And
You will discover new places!

Ever raced in Karlovy Vary?  (look it up)
Did you know that road existed? 
Have you ever run on that trail? 
Ever explored that cave on the coastline from the sea?
So what is Triathlon?
The easy answer is it is a lifestyle.  But if I am looking for something poetic, Triathlon could be described as: 
 "A way of challenging and improving ourselves, by sometimes taking on others, sometimes other countries but predominantly by the challenge... of the sport itself.  An opportunity to see the world.  Swimming, cycling and running disciplines combined to create a lifestyle to improve, inspire and better... mainly ourselves.  Triathlon." - Paul Jones
Why not give it a tri?  Don't wait... 
Paul is an IRONMAN Certified Coach based in Western Australia.  Paul is also a British Triathlon Federation Level 3 Coach and a Triathlon Australia Development Coach.
F4L Triathlon Coaching offers triathletes a full coaching and training service that caters to all levels of athletes.
F4L Triathlon Coaches are flexible and approachable. In addition to our training groups, F4L offers online professional triathlon training support and the reliability triathletes require.  Each athlete is an individual, every athlete has different needs. We provide you with experience and professional coaching.