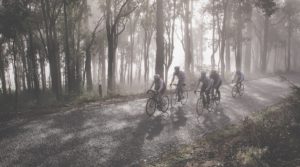 Coach motivation:  When the weather is shit it can make it harder to train.  The motivation is dampened.  The athletes' enthusiasm is rained on.  Its dark, cold and generally miserable.  Your bike shots are soggy, the sunnies mist up, the bike is filthy, your runners are wet... and you wish you were a duck!
But here is the thing... and there is really no getting away from this...
That's when the tough get going.  That's when the foundation for your triathlon season is laid down.  That's when Ironman triathletes step up.
I love turning up to the sessions and coaching the athletes who are committed to developing and getting better they are there ready.  Skin is waterproof, as long as it is safe to train... get on with it.
It brings a smile to my face when I turn up and the triathletes are ready to go.
THAT is a coach's motivation for coaching.
Guess that means I have been mega motivated this last few weeks!  Jeez... when did Western Australia's weather line up with Britain!  Its been rubbish.  I know its the WA winter... but I am now getting bored of washing my bike, the heater on in the house and having clothes hung up in front of the fire.
And...
I want to play some golf without having additional water hazards... the game is hard enough as it is... I mean... come on weather gods!
So this week I would like, for my birthday, a period of several weeks with nice weather, not too hot, not soaking wet and with just a little sunshine. Thanks!
Oh and an Aston Martin DB9.
So what else has been going on in this little triathlon world?
Well, to be honest not a huge amount... its that time of year.  Aye, right'oh...
There's is so much happening.  New clients signing up for training, old ones returning after a hiatus... you rarely really leave F4L.
On top of that, there is all the things a self-employed triathlon coach has to do... stay on top of accounts, website updates, advertising, session plans, training camp planning, race plans, coach mentoring, etc... I am not complaining... I love the diversity it brings... just wish it allowed me that Aston Martin though.
Phoenix Triathlon Club is growing so rapidly and its awesome to be involved in that.
They have so much going on.  There is the club Aquathlon in October, kids sessions, AGM coming up, fundraising, wine trails being set up.  What's amazing is that so many different people are involved in so many different ways.  They have only been flying for a few months!
On behalf of the club I now have to select the Coach's Athlete of the Month... which is cool.
Golf has been washed out recently, but that's fine.  I even managed a swim for the first time in ages this week... has taken me a week to recover... but I am up for the birthday set next week.
All in all, no rest for this coach... onwards.  Now, where are those mudguards?
Paul is a British Triathlon Federation Level 3 Coach now based in Western Australia.  This is what inspires him to coach.  F4L Triathlon Coaching offers triathletes a full coaching and training service that caters to all levels of athletes.  Paul specialises in half ironman training and coaching juniors. Every triathlete has a unique performance goals that need to be approached with an individual triathlon coaching program.