An Albany tale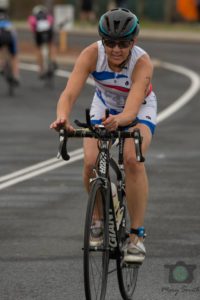 It is 7pm and there is no sign of my husband, Mark, coming back from work. We are due to take a five hour road trip from Perth to Albany tonight, so I can take part in a Sufferfest Olympic distance triathlon race. Everything has been packed five days ago in preparation for a swift departure on Friday night, but as more often than not "swift" it shall not be again. The beginning of the new school year has not been easy for us with kids in two different schools, Mark nearing a few project hand-overs and me setting myself up for a year of juggling three jobs. A week into it and I am already tired, which is not helped by hot, sticky weather, outbreaks of D&V at home and long days spent working as a Phys Ed relief teacher. So when Mark finally appears in the doorway at 7:15pm, I have resigned to the idea of setting off at 4am next morning or not racing altogether.
Following a minor domestic and a few tired tears on my part, we finally hit the road at 7:30pm. The whole family is used to long haul drives and Mark has always said: "I am much happier driving than getting stressed in a passenger seat with you". We all know the drill and settle into the usual routine of kids sharing school stories, drawing, fighting over music choices, eating junk food and finally zombying in front of the computer movie screen; me - long term holiday planning, map reading, posting rubbish on Facebook, answering Mark's work messages and staring blankly out of the window and Mark, who in the past few years clocked up a few "over 14-hours" straight up drives, is again … just driving. It is an undulating straight line time trial all the way to Albany and we certainly moving through it fast! Driving at night one gets to see things unseen in daylight! The moon and stars, a fox chasing a rabbit, kangaroos poking out of the bushes along the road, an owl impaled onto the Tri bars of the bike stuck on the roof (well, that was a very near miss)!
We arrive at 1am at an undisclosed location, as nobody really bothered checking the map for the exact whereabouts of the Rose Gardens caravan park. Ten minutes and sleeping kids have been moved into their beds and we lie awake, listening to the gentle sound of crushing waves, somewhere very very close.
Six hours later I wake up to the sound of singing magpies and whilst the rest of the family still asleep, wander out with the dog to find an absolutely stunning beach two minutes' walk away from our camper trailer. The clouds and mist are hanging low, making the hills around the beach look like a setting to a "Treasure island" movie, white sand, turquoise water, blue wrens flattering around in groups and a tarmac cycle path stretching all the way along the beach and towards little town about 4 km away. It is absolutely beautiful and I am now glad that we drove through half of the night to get here. And although dragging the family away always seems like a big upheaval… at this moment in time I would definitely rather be here than anywhere else. Even a prospect of by all accounts, a tough race tomorrow doesn't overshadow the inner peace I feel right now.
We spend the morning pottering around the beach, diving for shells and having a family picnic under the trees. As part of my race prep, I roll out on my bike for an hour along the cycle path, which runs along the spectacular coastline, past gorgeous Middleton beach and through Albany historic city centre towards the transition area for tomorrow's race. By the time I pick up my race pack at 4pm, the wind has picked up and gusts of rain are making the whole place feel much less friendly than in the morning. Kids and I drive out along the bike course, following Mark who has gone out for a ride. We head towards the famous Albany blow holes and "the Gap" – one of the most striking monuments to nature I have ever seen and really worth a visit. The wind is howling by now and the sea has turned to dark grey. The colour of the sky, the wind, the local whisky distillery, we drive past, makes the whole place seem not dissimilar to Scotland. A bit of pre-race anxiety, induced by the cold, sets in and I really begin to wish I have packed that bottle of red wine!
Back at the Caravan Park and sitting in a cold camping kitchen, watching the rain and waiting for the pre-race dinner to defrost, I really begin to wonder "what am I doing here?" This is about then, a few of our F4L team mates post a few "go team" messages on Facebook for Matt (Kraus) and I who are competing in Albany tomorrow. Matt is racing the 70.3 distance. A bit of silly high hearted banter and a few "likes" is all that's needed sometimes to shift the pre-race mood from "anxious, sad and lonely" to "happy" and here the big "thank you" goes to our F4L training buddies who are happy to share a joke or two and even at the furthest of places, I never feel alone.
Swim (a choppy 1,5 km but feels longer):
Men and women competing in the Ollyfest set off together and I quickly find a pair of legs to draft behind. Unfortunately the legs in front get tired pretty quickly and drift to the right and back somehow. Bummer! I find myself too far behind the leading group and on my own. Well, at least this is something I really practiced in the pool! We are now swimming against the tide and into rising waves that gives me a distinct feeling of nausea. The rectangular course is not easy with having to fight the waves on the way out and a very shallow section along the shore (or was it just me who have gone too close in?) Unable to swim properly through this particular part of the swim, I decide to get hold of seaweed and pull myself forward. Just when I struggle through this, feeling annoyed with myself for going so slow, I notice two more swimmers approaching me from the right. A men in a wetsuit, followed by .. oh dear.. a girl, who is not wearing a wet suit altogether (just a swimsuit). They have chosen a deeper line and overtake me just before the turn for the second lap. Never fear, I put an effort in and gain on them into the chop, overtaking the girl and looking for the guy to draft behind. I follow him for a bit but he keeps drifting too far off course to the right, so I give him up and make my own way towards the turning buoy. At this point, motherly instinct kicks in and I feel compelled to make sure that he is all right over there, on his off-the-course route into the open sea. Lifeguard on the surfboard spots him too and it is now two of us guiding the poor lost soul from both sides and in the right direction. Somehow he still manages to cut in front of me at the turning point! The exit is shallow and tricky, with the sea bottom covered in weeds and mud with some hidden holes and occasional rocks. I was there early enough in the morning to see the half-iron fest competitors exiting and falling thigh deep into the mud. So I check the exit before the start and now find a shallow easy route out. The habitual struggle with getting the wetsuit off the leg with the timing chip on (still so annoying, when I watch two more competitors going past me as I sit there tugging on the wet suit leg).. and I am on the bike.
Bike leg (a windy 45km with a couple of hills)
The wind is not too bad for the first 10k or so, but with it increasing as we go along, I switch from faster cadence in easier gear to head down and slightly heavier pedalling into the wind. The objective is to try and keep relatively comfortable at "anything above 32 km/hour". I am trying to keep an eye on a couple of riders in front of me and work on slowly creeping up on them, eventually overtaking one before the turn around point and focusing on the other. Twenty minutes in … should be taking some food, but don't feel like it. Thirty minutes in... I force a part of a Cadel bar down my throat. These worked reasonably well on the half-ironman race last year, but I must be going harder this time, as eating solids just does not feel good right now. I have a bottle of "strong Bindi" with me so sipping on that for water and fuel for now. A couple of steep-ish hills and I still feel pretty good getting out of the saddle to give my butt a bit of a break. I have been focusing on bike strength and endurance training in the past few months and feel that it really begins to pay off now. As I pedal up hill, I send some positive thoughts to the coach Paul and his tireless efforts on keeping those turbo sessions and lonely bike rides varied, specific and interesting. Turn around point and straight back up the hill. I must be looking tired as one of the riders heading in the opposite direction cheers me up by shouting "you can do it!" Hell, I certainly can! So I take a jelly snake and a gel later on and push on. The second half of the ride back is as windy as and my speed drops to 18km/hour (but not for long). A few kilometres left to go and suddenly begin to really gain on the rider in front of me whom I have been following since the start. It looks like I will be overtaking him just before the turn into the transition. Still every second counts, so I apologise as I go past him 100 m before the turn. But where is the dismount line? "Where is it?" I shout to the marshals, and they reply that they haven't been told! Oh well, better safe than sorry and I dismount, traditional style, probably way too early and right in the middle of a 90 degree turn.
Run (10.5km, 2 laps, with 2,5 uphill and 2,5 downhill)
Short term memory fully wiped out by the wind, I don't seem to be able to find the run exit out of the transition. Yet again, I have full trust in marshals when it comes to situations like this and sure enough someone points me in the right direction. The run is a usual mental battle with my own consciousness.
"I can't go any faster",
"Yes you can, you ran faster than that in every training session",
"Ok then I will pick it up a bit". Puff, puff.. "No can't do it"
"The lady who looks about your age is gaining on you"
"Oh, ok, I better pick it up then.." puff, puff, puff. "No can't do it any longer. Have to slow down".
"The coach will be disappointed when he sees your split times. Matt, will be disappointed, when he sees you. Mark and kids will be disappointed. The lady who looks about your age will see you struggle and will put the hammer on"
"Puff, puff... got to slow down. Oh here is Matt, he looks strong. Thanks for the high five (my hand was burning for a while afterwards)"
"It is all mental you know... Your body can do it if you let it"
"I doubt that..."

"You've got to look good through aid stations and past the spectators at the turn around point.. oh and past anyone with the camera"
"Screw that, they won't dare post a bad photo. They are all so nice"
"The lady who looks about your age is gaining on you. Only one km left to go, pick it up or I will hate you for the next few weeks. If you don't pick it up now, then when will you ever do?"
"1, 2,3,4,5, 6, 7, 8,9,10 and repeat.
Wave to husband and kids.
Finish line. Thank you God it's over!
Hug with the family and a lonely stumble to the HOT SHOWER CABINS!!!!!!!!!!!
Thank you thank Sufferfest organisers. The event just got five stars from me! A little jingle bell trophy for the first place in my age group is a nice touch, although a few minutes later I wish I didn't let my son lay hands on it. "I don't know who gave my son a jingle bell! But I will find you".
Lessons learned
1. Don't leave home without red wine
2. Every Tri girl should own a pair of small black Tri shorts. Why? Because... and here I agree with you completely Julie Bull, a period during a race is kind of a big deal!
Special thank you to my family and my husband Mark, without whose support none of the above would have been possible. I love you.
Sveta