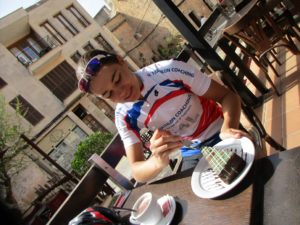 With my second triathlon season at a close, I was lucky enough to be able to attend the 2016 F4L Triathlon Coaching Training Camp in Mallorca, Spain. After some 300 and something days of counting down, finally the day to leave (March 27th) came, I was super excited. Along with Paul, Helen and Rhiannon, I left Perth and started the long series of flights to get to Mallorca. After 7 hours to Singapore and then 14 hours to Heathrow, we stopped briefly in the UK to overcome the jetlag.  This was my first ever trip to the northern hemisphere and was definitely my longest flight.  Then on March 30th we took a 3 hour flight to Mallorca. We arrived in Mallorca a few days early so that Paul and Andy could recce the cycle routes for the week. We drove and cycled around various routes and up various mountains. No matter where we were the views from the hill tops were amazing. You could see so many features like all the towns, large fields and other mountains and hills. Although I was nervous about cycling up these hills, I was definitely more excited. 4 weeks prior to the camp I had a crash on my bike that resulted in a broken collar bone. I had only come out of a sling the day before we left Perth, and was nervous about getting back into training on the camp, especially for cycling and swimming. I need not have worried. I was in the capable hands of my coach and surrounded by other amazing athletes who provided sound support and advice. The camp officially started on the Saturday. The week seemed to fly by. Like they say, time flies when you are having fun.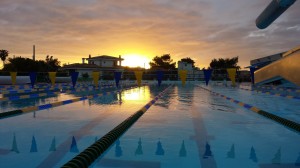 Swimming was the biggest challenge for me due to the injury I had, but I couldn't think of a better place to start swimming again than at the Best Swim Centre in Mallorca. I really liked this pool. It is a 50m outdoor pool and I really liked the change from the 25m indoor pool that we train in at home. The pool was a short few minutes walk from the hotel. Although I didn't finish all of the swim sessions, the ones I did I really enjoyed. My goal was just to start swimming again and at least this was achieved.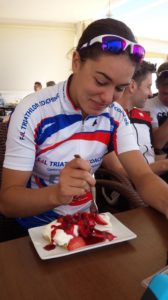 Cycling was by far my favourite. Cycling in Mallorca is so different to cycling at home in Perth and I'm sure it was different to cycling through England. Most of the roads in Mallorca are really smooth and are good to cycle on, however there are a few that are pot-holey and bumpy. The way I saw it, it was a quick way to improve your bike handling skills and develop confidence on the bike. None of the roads were really un-rideable, provided you were smart and listened to the coaches. We cycled every day, with each day being a different route, a different adventure and different options for cakes. The best cake we got was a cheesecake at a small café about a 45 minute cycle from the hotel. This cycle route is rightly called the cheesecake loop. Some of the cycles were fairly flat whilst others involved what I would say are mountains, however some people might not agree, but they were at least huge hills.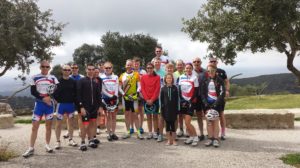 We cycled up two mountains; Randa and San Salvador. Both were really different experiences. Randa has long and steady rises with a few switch backs, whereas San Salvador has many switch backs and had some really steep rises. Although both were challenging in their own way, the views from the top made it worth it. I personally gained a lot out of the cycling. I started the long process of regaining my confidence of the bike, which was hugely helped by the coaches and the people around me who encouraged me throughout the week. I didn't do that much running over the course of the camp, and that was purely my own choice. I lacked a bit of motivation to run due to my season being over and not having any current goal. This being said however, there were plenty of opportunities to run and there were heaps of places to do so. The path along the coast was my favourite place to run, and there were also some private trails just down from the hotel.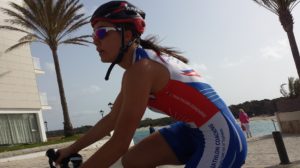 We didn't just do separate swimming, cycling and running sessions. We did a transition session and a race simulation session. The race simulation session was by far my favourite session. The weather was perfect for the race with the sun being out and there not being too much wind. We were told that this was just a simulation and it wasn't competitive, but I think I speak for most when I say that when you hear the word race you can't help but get at least a little bit competitive. We swam in a bay just out from our hotel, cycled along the streets past the hotel and pool and then ran along the coastal path. I loved it. The transition session was also really fun. Focusing on mounts and dismounts, I think that everyone really enjoyed it. It was good also to see people who hadn't done mounts and dismounts before give it a go. By the end of the session everyone had successfully done it at least once. I can't talk about this camp and not mention the food. The food was to die for and there definitely wasn't a shortage of it anywhere. Dinner and breakfast in the hotel were huge buffets with so much to choose from. Each meal could have been completely different meal if you wanted to. The desserts were delicious! No matter how much I ate at dinner, I always had room for dessert.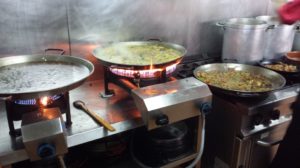 We often had lunch whilst we were out cycling, stopping at any of the cafes. The food each café presented us with was really delicious. I don't think I have ever been as full as I was on the team night out that we all went on. One of the local restaurants, S'arrosseria, opened just for us! We had several various tapas dishes followed by 3 different paellas. The paellas were huge, I don't think I've ever seen any dish that big before. And it was so tasty and delicious and if I had more room in my stomach I would've eaten more. We didn't just train on the camp. We also focused on the mental aspects of triathlon. Paul ran a seminar on training and how to train properly. This was really informative, and for the few people without a coach that attended the camp I think they definitely learnt a lot. It gave you an insight into how the F4L coaches develop an individual's training plan and not just producing a generic plan. We also had a quiz on triathlon and triathletes. From that I concluded that I really need to learn more about people in the sport which I love so much. For me, this camp was amazing. It helped me get back into training and begin building my confidence and strength back up. It also gave me the opportunity to meet and learn from other athletes whom I wouldn't usually get the chance to converse with. Being in another country made it all the more exciting for me, because every time we went somewhere it was completely new for me. I loved the camp and couldn't have been surrounded by a better group of people. It made me realise how big the F4L Triathlon Coaching Team really is. I am so lucky to be able to be a part of it.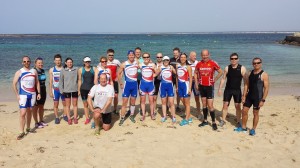 Thank you to Paul, Andy and everyone else for an amazing and super fun camp. Can't wait for the next camp and I'm definitely planning on going back to Mallorca next year.... Catherine