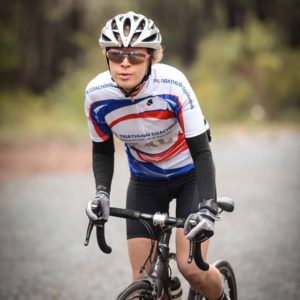 Maddy Rhodes is one of our up and coming F4L athletes in WA.  Fairly new to the sport Maddy answers our team questionnaire...
What's the first thing to enter your mind when you wake up on a training day?
"Lets do this."
Tell me your favourite F4L story.
I think back to the Australia Day Triathlon this year when I was still getting to know the F4L guys. It was probably my worst triathlon I've done. I wasn't feeling great on any of the legs, and was struggling through the final part of the run, when I got there I had a whole team cheering me on and their encouragement spurred me on. I miss team sports and triathlon isn't exactly one of them. But training with F4L Triathlon Coaching has reminded me how much I love the friendship and support in being part of a team. Thanks guys!!
Who trains and complains the hardest?
Complains: after today? I'm gonna have to say Sally. Sorry girlie! Trains: I don't think I've ever been to a F4L session that Cate hasn't attended, even when she was injured. That girl's tough.
What's your favourite / least favourite type of training?
Ooh. Lets start with least favourite. I am not a fan of doing swimming sets where you have to get out of the pool and then dive back in. I am so awkward doing this, that when I pull myself out of the pool I feel like a cross between a seal and a lizard as I scramble on my belly onto the pool deck. All together, it looks and feels terribly "un-co". Favourite? Man, that's hard. Surprisingly, I enjoy pretty much all of the training sessions. I think my favourite are the back to back sessions. Like when we do run training and swim training on the same day. Definitely a challenge I enjoy!
If you could have any superpower – what would it be?
I'd definitely fly. Extreme adrenaline sport!
What's your typical meal and snack line up on a training day?
Breakfast is always muesli with fruit and yoghurt. As a snack, I am totally addicted to eating banana with peanut butter. Yum. On the go, a muesli bar or bounce ball is usually easier… just less delicious.
What's your usual pre-race routine?
Generally, I prepare everything the night before. I've checked and double checked my bike is set up and ready to go, all my gear is in my bag, my clothes are laid out and brekky stuff already on the kitchen bench. In the morning before I leave I'd rather not rush out the door, but relax a bit over brekky. At the race start, I set up all my gear in the transition area, make sure I have a landmark and can locate my bike easily, and walk through entry and exits. I'll go on a quick warm up jog but then I'll generally just chill on the beach or by the water until the swim starts.
Describe the perfect 2016/17 for you.
Complete an Olympic distance triathlon. Beat my current sprint distance PB by 3-4 minutes. Get in the top 3 in my category for one of the races.
Quick fire round:
Favourite training music?
Push it – Salt-N-Pepa
Favourite chocolate bar? (If you have one!)
Don't really have one. But give me banana and peanut butter anyday.
Favourite film and why?
Tangled or Inside out. Because I love Disney.
Biggest inspiration?
Elzy Wellings. Girl qualified for the Olympics 3 times but had to drop out because of injury. She never gave up though, and this year she's in Rio competing for Australia. You go girl!
What's the best bit of advice you've ever received (that you're able to share!)?
"AAARRGHRRGHHARGH" - Chewbaca