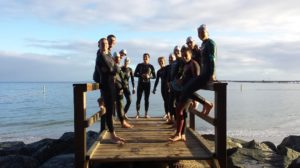 The F4L Busselton Triathlon Training Camp offers amazing triathlon experience in one of the worlds best triathlon destinations.
Busselton, Western Australia as a location has it all... with one of the best training environments you will find. Open water swimming in the Indian Ocean, running along the sea front (it goes for miles) and cycling through the undulating vineyards of Margaret River. A tourist hot spot all year around with great climate and world class facilities to support your stay. Oh... did I mention the wine? Heard of Margaret River? There is something for all triathletes at our camp.
New to the sport or an experienced triathlete, going short or having a go at Busselton Half Ironman, our long weekend of activities will be tailored to suit.  You will get to immerse yourself in the sport and come away with the information and motivation to put into your preparation for your next event. You will thrive off the positivity delivered by our coaches and the athletes.
Offers
The camp offers a mix of training and learning, both practical and in short workshop style sessions from the coaches. Add to this a good dose of fun and light hearted moments and the enjoyment factor is certainly high with the mix of activities and social outings the F4L Triathlon Coaching Camp offers.
Quite simply if you are passionate about the sport as we are at F4L Triathlon Coaching and you want to raise the bar to be your best than we can offer the training and triathlon experience to set you on your way.
Busselton Camp Booking Form is HERE
Looking to kick start your training: check out our coached training programs here