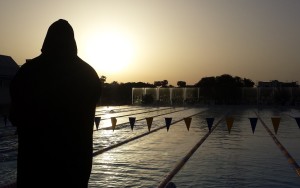 I was trying to come up with something clever to title this blog... my coaching nickname has been Jedi for a while (something to do with my Star Wars appreciation and bringing balance).   The return is more to do with my mindset, which, being honest with myself had lost some of its powers recently.  Whole variety of reasons, none of which I am going into here.  The title might also be about one or two of the F4L athletes who have come back this last couple of weeks, more focused and determined than they have been. So this is good news... except, now more focused and determined... that means training is stepping up.  Que: Evil emperor type laugh.
On a serious triathlon note, just for a moment:
One thing that has popped up this week is the idea of doing more on public holiday weekends.  Now triathletes tend to have the mindset that more is generally better.  Especially as they go up the distances, and Ironmen & women are the worst (purely in my experience). My coaching philosophy has always been
consistent, sustainable and balanced training
. So if you go from doing, on average, say, 10 hours a week of training.  How will your body react if you suddenly up that to 18 hours over a long weekend?  Probably not well. So just because you have the opportunity to do a couple of extra longer bike rides, should you do them?  Depends.  It depends on how you are going to ride them, it depends on how much extra recovery you are going to allow yourself, and it depends on whether or not your body will recover between rides. Using the example of the 10 hour a week individual, I would probably encourage an extra ride and then a day off.  Use the extra spare time to recover, spend time with the family, relax, do something different... Triathlon is about balancing everything you do (see... Jedi)... and recovery is the glue which holds it all together. In other news:
The Lake District landed in Western Australia this week.
There are some days that coaching is yuk... like when that "Fine rain" is going down in sheets.  When I say yuk, I mean fun, but I was soaked and cold.  So I joined in the session and felt old, especially as I was giving away 27 years to one of the athletes who was kicking my arse (I know I only look 21 but I am actually a fair bit older). This weekend we're heading down to Karri Valley for one of the F4L featured races.  This one put on by Stadium Tri.  The
F4L Phoenix
crew will be down there en-mass... watch out for MC Tadpole Trigg, his jokes can be awful.  Last year
Sveta wrote a race report
, which is worth a read.  She's back again this year... as are several others.  Really looking forward to this one. This week sessions have been written for the group for when I am away in Mallorca.  Yes most of the squad sessions continue when I am away... that's why I have an apprentice... Inter-State School Sport Triathlon is coming up, as is Busselton 70.3 in May... another popular weekend in WA.  One I would recommend to any of the European contingent looking for a race in Australia.
This looks awesome.  Lots of short fast racing with swim, bike & run mixed up.  Well worth a watch with some of the superstars of triathlon taking part. For anyone who doesn't know about fine rain - check out Peter Kay (10min 24sec onwards)