Slightly different approach this week as I write this having completed my first Ironman.  It may not have been quite what I had hoped and it certainly wasn't a record but I finished and that was my goal above all else. 
What happened?
Well, on the run a couple of old ladies, a kid in flip flops and a man on one leg ran past me...
OK, on a more serious note: Five weeks out from the event on one of my last really long runs my hip gave up.  Now this is one of the differences between age-group and pro racing... pros, if they pick up a niggle can delay their race and turn up at the next event, no major deal.  However, age-group athletes don't have that luxury!  Holidays are booked, flights, hotels, time off work... events are not cheap... and, particularly for Ironman, an athlete has to do everything they can to get themselves to the start line.  And so, after treatments and stretching, treatments and stretching, treatments and stretching I thought I would be OK.
Swimming and biking had been going pretty well, occasional slight blip (sorry, Kev) whilst out on long rides but generally good.  I just hadn't run... it was it is... man up!
There had been other stresses leading into the race but I have no excuses, I finished and I am an Ironman.  Trying to emigrate to Australia is hard work... we leave in a week from now... there have been other issues, family illnesses (all mending now), family feuds... oh joy... but things had settled down before heading off.
So arrive at Newcastle airport for what is usually a simple check-in... uh-uh.  For a start the belts were not working to check the bags in... delayed at the first hurdle... eventually sorted that out... went to send bike through the oversized luggage... x-ray machine bust.  The guy who usually has the easiest job in the world was having a mare.  This sole individual had to check every bag by hand... including the fifteen golfists with their bats in front of me in the queue! Delayed at the second hurdle! Stress building... passport control... massive queue.. stress continues to build... through eventually (although in fairness is wasn't that long) then sprint to the gate.  Knackered before even getting on the plane!
The flights were good and Schipol airport (although in Holland) had a sense of German efficiency about it.  The humour as all the Americans in the airport bought the Dutch out of pizza was funny though.  Then onto Munich...
The airport wasn't too bad but the queue for the hire car was definitely not a case of German efficiency!  I stood for nearly an hour whilst some poor girl behind the counter had to contend with a bloke who was presented with just about every car that they had, only to turn it down... the irony was he ended up with a Skoda!  Eventually through that nightmare onto collect the hire car... found it... loaded the bike into the thing, bags next and then I fell backwards over the rail and landed in a heap on the floor behind the car.  I'd landed on hip (yes that one!) and when Helen got there she kind of looked at me funny... ignored me and looked over the edge barrier to make sure I hadn't dropped anything three stories below.
I didn't even get a worthwhile bruise...
We stayed in a stunning hotel (Hotel Jutta, Maria Worth) the room was great and food was good.  Everything just about settled down now... except me...
I've been doing triathlon as an athlete (loose term) for 15 years and normally I get a little nervous, but here, I was cacking it.  I have no idea why.  But I couldn't sit still, I struggled with sleeping and at times I was struggling to simply breath.  Its just nerves but for the first time I can remember, I could not control my tension.
Helen, my amazing and inspirational wife and Rhiannon my wonderful daughter were amazing. They helped take my mind off the race... but it was hard not to be thinking about it... there was a carnival of cyclists on the roads... the whole town was pretty much shut down for the race.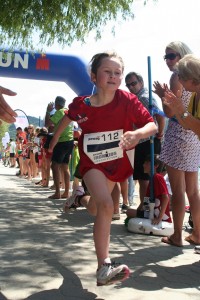 Watching the Rhiannon and all the other kids do the IronKids race was awe inspiring.  So much enthusiasm and how much noise did that crowd make?  Well done to every single one of them.
And so onto race day:
The alarm went off at 4am... not that I needed it. The night before any race I don't sleep well. But trying to shovel some breakfast down your throat at that time in the morning was hard.  Amazingly the breakfast room was full... and there wasn't much talking.
Onto one of the highlights of the day was the James Bond style boat ride to the race... think David Beckham on the Thames at the Olympics... 7minutes is all it took to the drive that had been taking 20min in the car all week.
Then it was a quick dash to the transition area, check the bike, then off to the swim start.   I was there in plenty of time.  I had chosen not to go in the fast wave but was amazed how many athletes turned up late to their start... unbelievable! Anyway, focussing on my own race I went right over to the far side of the swim start...
As the gun went I got in and just swam easy... swim easy, relax, swim easy relax... count 1,2,3,4... I didn't look up for at least the first 50 strokes.  I just swam straight and got into my own rhythm. I only started looking around after a while and noticed I was on my own... OK... just swim easy... and that's how I swam... all the way through the swim, into the canal which was so loud... having a canoe lead me through the back-markers from the previous wave, helped no end.
And into the transition for T1.  Standing up after swimming 3.8km was a little weird but I felt pretty good, relaxed and felt like I hadn't over done it at all.  Bike kit on and away...
Then as the bike progressed I have my one and only complaint from the race... the massive packs of drafting athletes.  It doesn't help when you come out of the swim towards the front and then have these guys coming past you... quite depressing really.  That said the bike course was stunning.
Two laps... fantastic support and the number of cheering, cow bell ringing Austrians on the course was amazing.  You hardly needed to pedal as the noise pushed you up the climbs... or at least it helped.
Half way round the second lap my legs felt pretty good.  I was chatting to riders, the packs had gone and it was a far more even playing field. I was quite proud to have ridden my own race.  I drank plenty, ate as scheduled it was all going to plan.
Into T2 I expected to feel much worse but my legs felt OK.  I whipped through transition (or at least that is only way I can explain the Mr. Whippy look with the amount of suncream I had put on my face and onto the run.
The first people I saw were Rhiannon and Helen... that gave me a huge lift.  I felt really good, my legs were tired but I felt fine and for the first 5k I just ran really easy and then my hip started to tighten... by 7k it was really painful.  There was no way I could keep running, but there was also no way I was going to stop... death before DNF... I managed to walk and kept moving...
Without Helen to keep me going I would have stopped.  I don't doubt that. But I would also like to say the crowds were amazing... you had to keep moving... the kids at the feed stations were so full of enthusiasm, so positive... they must have been shattered by the end of the day.
Eventually I made it to the finish line... Rhiannon decided to drag me there as she pulled me through the last 200m... it was everything you would hope an Ironman finish would be... noisy, emotional, big and welcoming.
So what have I learnt from the experience...
Number one: do not try and train for an Ironman at the same time as trying to emigrate to a foreign country (Australia in my case).  The stresses that come with emigrating alone are quite intense and mentally drain you.
Number two: Ironman training is hard.  I knew that, obviously, but as an age-group athlete who has a family and a job it becomes very hard to sustain that level of training without a certain level of selfishness from the athlete and a massive understanding from your wife.  The levels of fatigue which were accumulating just from training for the event were massive... fatigue at home equals grumpy bugger, short tempered individual and generally pain in the arse kind of guy.
Number three: support is crucial.  I don't necessarily mean an Andy Murray type support team here with: coach, personal trainers, masseuse, dietician, girlfriend, mum, brother, who sit in the box watching you... er... actually I do! Maybe not to quite the same level but you are probably not that far off. Without key personnel with you all the way, Ironman will  be a very lonely and far less enjoyable experience.
Would I do another Ironman?
I don't plan on it but never say never...