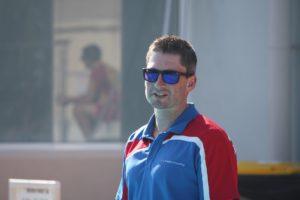 One of my New Year's resolutions was to make sure that I treated myself more like an elite athlete!  Ok, that hasn't come out quite how I meant it to... what I mean is that as a coach, when should I take a rest day?
Its something that came up a couple of times towards the end of 2016, and is actually really important.  I have spoken with one of my coach mentors, other coaches, also with my wife, also with the athletes themselves.
As a coach, I am always monitoring when an athlete needs a rest day or a break from their training program, but being as passionate about what I do it is very easy to forget to rest myself.  This is something I am sure other coaches around the world have come across.  Certainly I struggle with making sure I get enough rest.   There are reasons that I struggle to stop:
When you have athletes racing... you want to know how everyone is doing.
I want to be there at every session
I want to respond to emails as quick as possible
You want to be, at least available, for your athletes if ANYTHING goes wrong
Ideally I want to be with them at a race - I am part of their triathlon journey
I care about how they perform
It can be easier to debrief them post race if you are there with them
I have been accused in the past of 'wearing my heart on my sleeve.'  I do.  That's who I am.  I care about what I do, I care about my athletes and how they perform.  I also have genuine care for their well-being, so if they need picking up from a date, I do.  If they need a lift home, I will.  If they need taking to hospital, I will.  Being a coach does not stop after you have left the pool deck.  It is a 24/7 relationship.  I only want the best for my athletes, for them to enjoy the sport and achieve what they want to achieve.  Sorry, if people don't like that in a coach.  I know that it is one of my strengths (giving a shit)... but I also know it can be one of my weaknesses.  No one is, or ever will be, more critical of me as a coach... than me.
I know, this week I have not been on top form with my coaching... I know why (Tyler but also some stress and general fatigue).  So I apologise... I will be better.  But to do that, to be better, stronger, more efficient and effective I have to stick to my New Year's resolution.
So, I am planning to take a regular day off each week - and do something non Triathlon... possibly Golf if anyone fancies a round (did I tell you I once played off a handicap of 16 and then gave it up to be a swimmer - another story!).  I am also planning to switch my phone and computer off at a certain time each night.  In addition I need to make sure that I occasionally take a weekend off.  
Speaking of athletes. They are starting to fly...
Be it Stef in Dubai on a bike having been unable to swim / bike or run for a while... enjoying the 70.3 Relay experience
Or Caitlin, Kendall and Clancy winning at the Australia Day triathlon in WA. 
Perhaps Sveta getting a medal on the same day...
Or Piera and Eleta enjoying (?) completing their races
Then down at Busso (I did sneak out the holiday house for an hour to go and watch and show support) - the juniors: Clancy, Trigg and Lucy raced well (you could see the learning sinking in).
Well done too Kendall and also Maddy for finishing 2nd in the WA State Olympic Distance race (guess the training camp did work!) for having good races there too.
Next stop for me is back to base for this evening's squad swim as we gear up locally for Albany, City of Perth and Way Out West. See you on deck!