Meet Matt - he's an athlete fairly new to the sport of Triathlon but loves being part of the F4L Triathlon Team
What's the first thing to enter your mind when you wake up on a training day?
It is so cold – do I get out of bed or not - get out of bed you lazy sod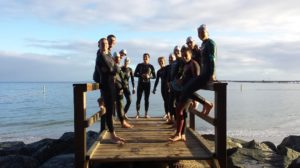 Tell me your favourite F4L story.
The day before Busselton 70.3 in May this year was awesome – Just about the whole team was in town. We met up early on the Saturday morning for a swim / ride session. The water was chilly but nice, we had a real easy session and some games as well. Then onto the bike – Paul said he knew where he was going but after the first 20mins I wasn't so sure – we ended up riding through the burbs practicing our U turns (a lot) on the bike – we made it home - eventually! Then off to the Fat Duck for coffee and cake. A great morning with an awesome bunch of people.
Who trains and who complains the hardest?
There are a few contenders for the person who trains the hardest in the team but I will run with Kendall, she always shows up to sessions, puts in a solid effort at each session and always find time to encourage others along the way.. Complains the most – most likely Ash - mainly about how old he is. Ash should be happy that he is getting ever closer to obtaining his seniors discount card
What's your favourite / least favourite type of training?
Favourite is on the bike, early in the morning, fresh air and putting in some efforts – I love to ride fast. Least favourite is on the Turbo, Paul even wrote a special blog for me titled 'learn to love your turbo' after I had expressed my extreme dislike of turbo session – thanks mate!
If you could have any superpower – what would it be?
Strength like the Hulk
What's your typical meal and snack line up on a training day?
Breakfast – natural muesli, raw nuts, banana & goji berries& black coffee Morning Snacks - banana bread & black coffee & fruit Lunch – winter time usually a hot meal – left over from the night before. Summer – chicken and salad roll or wraps Afternoon snacks – fruit, nuts and coffee Dinner – either a pasta dish or meat / chicken and three veg Plus there's always room dessert
What's your usual pre-race routine?
Breakfast first – always eat Grab my gear – have laid out, checked and packed the night before Run a double check on my bike Double check my check list – I love lists and spreadsheets Drive to the event – crank some heavy tunes on the way there Set up – I always use the same red beach towel to put my gear on– helps me find my bike when I'm coming in from the swim. Double check setup and then walk away from transition Scope out entry's / exits Hang with the team until start time
Describe the perfect 2016/17 for you.
I have my sights firmly set of both 70.3's in Busselton, WA this season. I am aiming for a clear sub 5hr finish in December then to better that time again in May.
Quick fire round:
Favourite training music?
Disturbed or MOS
Favourite chocolate bar? (If you have one!)
Snickers - You're not you when you're hungry
Favourite Movie and why?
I struggle to rate my fav movie these days – I prefer TV series – Vikings my fav at the moment– the battles, strategy, the power and strength in the story and the characters, charting new ground, and most important the cool tattoos, sweet haircuts and beards!
Biggest inspiration?
I have been sitting on this questionnaire now for 2 weeks deciding who I rate – I have come to the conclusion that there we are surrounded by people doing cool things everyday – mates hitting PB's in the team, people selflessly helping animals, people helping each other – the small everyday things, that is what is inspirational to me.
What's the best bit of advice you've ever received (that you're able to share!)?
Pick something that you want to be and do it well