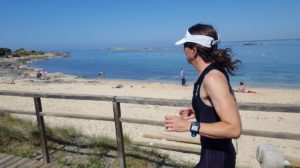 Ironman Kona.  Ok, so you may think it is an odd title.  You're right.  However, this week was Ironman World Championships in Kona.  And I listened to the 'Stages' podcast hosted by Lance and it was actually really good.
I'll come back to Mr Armstrong later... but how inspiring was the Ironman in Kona?  Massive congratulations to Daniela Ryf and Patrick Lange.  Breakthrough performances will be hailed for Lucy Charles and Lionel Sanders.  How awesome were they?  Big stars of the future.
Top tip... don't put your lottery numbers on based on me this week. I may have made a couple of errors in my predictions.  So just how bad was my prediction for the Hawaii Ironman?
For the women I went with:
Daniela Ryf - 1st
Michelle Vesterby - DNF
Annabel Luxford - 9th
And for the men... if the wind is right...
Tim O'Donnell - 19th
James Cunnama - 5th
Jan Frodeno - 35th
I got that wrong!
Guess the wind wasn't quite right.  What I will say is that if you read the article I did have most of the podiums in there (5/6) and the record did go in the men's race... still... I'll do better next year!   By the way: Lucy Charles swim would have put her in the front group of the men's race.
Massive kudos to Jan Frodeno for walking the entire marathon.  He did it out of respect for the event and the island.  Most people would have walked off the course much sooner.  Not only did he walk the course, he cheered and supported just about every athlete out there. #respect
As the athletes prepare for the triathlon season in the southern hemisphere... it has been an inspirational weekend.
One day I will be in Kona.  I would love to be there with an army of triathletes that I coach from all over the world, my wife and daughters.  How cool would that be?  Want to be part of it?
I'll be honest, its one of the first times I have watched that event and thought I want to do that... just once... as an athlete.  Only trouble is, I would have to do an Ironman to get there.  Who knows?!
In the meantime this weekend we had a busy time of it.  Training sessions for the squad and then time trials for the junior athletes.   Sunday's ride was hard core.  No messing, race season is coming...
Maybe I am weird but I love training hard.
Now, I am not training for anything in particular other than being able to keep up!  However, it is so much fun to feel the legs (and lungs!) burn when doing efforts with the group.  15 min hill reps are fun!  No, they really are.  Ok, I am weird.
One of the biggest attractions of Triathlon is the possibilities of travelling for races and training...
The world is bigger than any of us and I do want to see so much.  Perhaps it was Kona this weekend, or maybe it was one of my athletes asking which race they should do in July 2018... either way I would encourage anyone to pick an event somewhere and travel to it... do the race and then have a holiday.
One of the things I want to do with this blog / diary is to inspire people to take up the challenge.  Tri it (see what I did there?).  Perhaps the one thing I want to do more than anything is inspire my kids.  We can do anything we want to do... it might seem an impossible task, but, as the saying goes, "It is only impossible until it has been done."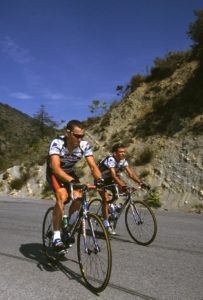 And so to Lance Armstrong.  There is an article on this website about whether Lance should race again.  I stand by that article...
....however, Lance has absolutely been made a scapegoat... and yes I follow him on Instagram.  Recently, I have actually found some of his more recent exploits quite inspirational.  And so, I listened to his 'Stages' podcast about the Hawaii Ironman (free on iTunes).  I thought it was really good.  Lance's knowledge about the history of triathlon was good, having Mark Allen and Dave Scott on there was inspiring.  Hearing them regale their tale of the Iron War from 1989 was humorous, entertaining and enlightening.
Have I forgiven Lance?  No.  I don't know if I can...
He was my hero, my inspiration...
I appreciate he cannot apologise to everyone.  I also appreciate, and understand, that in the era Lance raced... to win... you had to take the drugs.  Lance wanted to win.
Would I like to go for a beer with him?  Yes.
Would I ask him about the past?  Nope.  I am more interested in what he has planned for the future...
Paul is an IRONMAN Certified Coach based in Western Australia.  Paul is also a British Triathlon Federation Level 3 Coach and a Triathlon Australia Development Coach.
F4L Triathlon Coaching offers triathletes a full coaching and training service that caters to all levels of athletes.
F4L Triathlon Coaches are flexible and approachable. In addition to our training groups, F4L offers online professional triathlon training support and the reliability triathletes require.  Each athlete is an individual, every athlete has different needs. We provide you with experience and professional coaching.
PS.  The lottery numbers this week may be: 2, 7, 10, 27, 44, 77