In the last couple of weeks F4L have made some small dents in triathlon.
Qualify for the Challenge Championships
And there you have it... in Triathlon, stick to the F4L plan... you may just qualify for the Challenge Championships in Samorin, Slovenia!  Well done Claire Slater, 4th in her age-group at Shepperton at her first fly-away race.
Actually, this is the second athlete to qualify for this event in 2018, Helen Viehr qualified at Challenge Salou earlier this year.  Not bad, for a small team of athletes.
So what else has happened in the last couple of weeks?
Well, our Juniors stood out
for all the right reasons. 
Clancy 'Gizmo' Quick qualified for the WA State Team!  Hayley (aka Wicket) , in her first season in Triathlon, has just about secured her sport on the team too.
This is on top of having a national duathlon champion and couple of medalists in our little squad of athletes.  
Oh and then we rocked up at Point Walter for the Left Bank Triathlon... that was fun.  We raced as teams of two.  I, obviously, raced with Mrs Jones.  We were flying.  Not sure how Helen does it to be honest, post baby, full time job and we still rocked it.  I did get into trouble though!  I had named our team 'Phoenix Jedi'... I was told in no uncertain terms it should have been, "Tri to keep up with the Joneses!"  To be fair... that is a better team name!
Oh, we won.  This is with having baby Sophie as our 'baton' at each change over...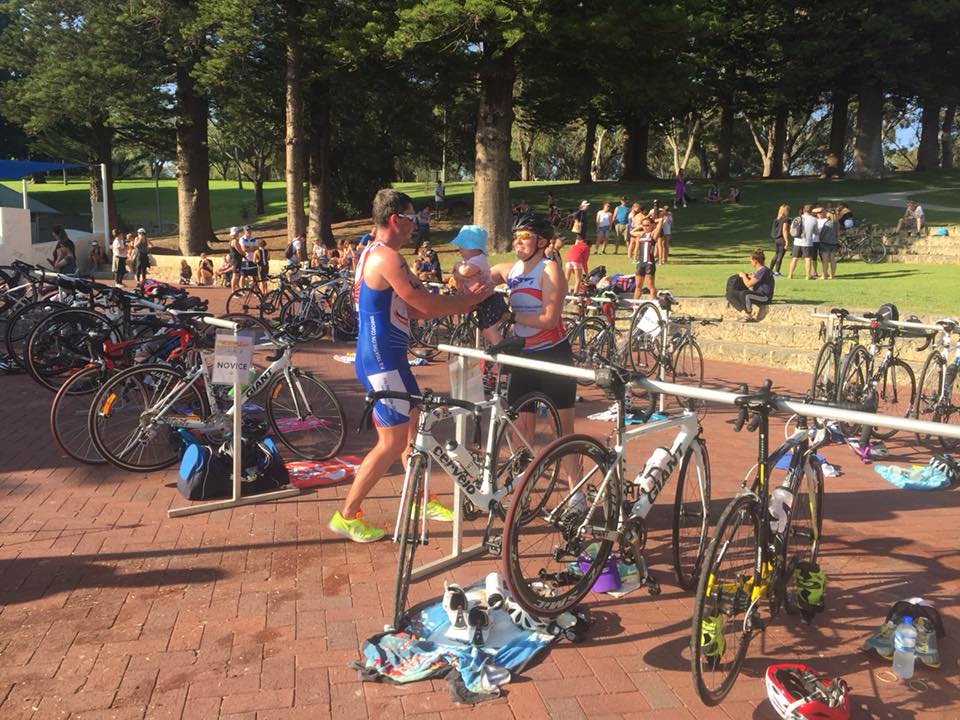 I always like to think that my coaching is constantly evolving and when someone comes up with a good idea, I'll try and incorporate that into sessions.  Last week at our local lake we had 3 mini tris.  Just race simulations if you like.  Great to practice starts, turns, transitions and pacing.  Amounted, in total, to just under an Olympic distance race... how much fun (oh and some tired legs afterwards)... but it has led to another idea... be warned athletes, you are going to love this!
As for me:
Trying to lose a few pounds at the moment... (otherwise that just makes dents in a pavement!) maybe got a bit too squidgy round the edges... but I am getting there.  3kgs down, 2kgs to go... 
I have also decided that I do not like getting old... my hair is getting grey-er every day (probably due to working with my athletes!!!!!) but worse, I realised that in 5 years time I will be ALMOST 50!  Holy shit.  How did that happen?  And here is me trying to keep up with 15 year old kids.  Humpf.  Getting old sucks.  And so in a bid to roll back the years...
...Just pulling together a pre-race music playlist... guess that means one thing... yep... dusting off the elastic laces and the wetsuit and going to try and push the sun back up into the sky for one last day of summer.  Now, where is that vinyl Rocky album or even Deep Purple would do?  
Paul is an IRONMAN Certified Coach based in Western Australia.  Paul is also a British Triathlon Federation Level 3 Coach and a Triathlon Australia Development Coach.
F4L Triathlon Coaching offers triathletes a full coaching and training service that caters to all levels of athletes.
F4L Triathlon Coaches are flexible and approachable. In addition to our training groups, F4L offers online professional triathlon training support and the reliability triathletes require.  Each athlete is an individual, every athlete has different needs. We provide you with experience and professional coaching.
Mallorca Training Camp
In 2018 F4L Triathlon Coaching will return to the stunning island for our Mallorca Training Camp. For the sixth year we will be based in the town of Colonia Sant Jordi, which is an idyllic setting in the South of the island.