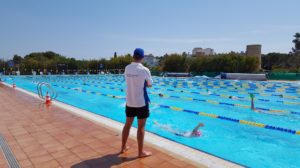 Mallorca seems so long ago!  I am glad to be home... but... its straight back into everything.  For me, Mallorca is not a holiday... I love it, and will keep doing it.  I'll keep making the camp better.  There are so many positives.  But when do I take a break?
For the first time I have come home and realised just how far away from everything Perth is. I love it here. As a family we have a pretty cool life. Our 11 year old is settled into school and is able to do things that we just couldn't do in the UK. We are lucky to have a pool in the back garden, there is a 50m open air pool 5 minutes down the road. The weather rarely stops us doing anything. The beach is not that far away.  We live in the hills, and of course there is the local food, BBQs, wine and the craft beers... hmm!
Obviously I miss bits of England... the Lake District particularly. Since the Mallorca trip though I have really come to miss people. It was fab seeing my Dad, my sister, Andy, Tom, seeing athletes from previous F4L training camps and making new friends on this one.  That's what makes this job so damned special... you get to see fantastic places and meet even more fantastic people... and I am helping people achieve their goals and ambitions.
Obviously, when we migrated we knew what we were getting in to... but I think for the first time, for me, the isolation has hit home.
Divvent nay panic man... I am not about to jump straight back on a plane to Blighty... I won't get the chance to do that until next year's Mallorca camp. Anytime I have doubts I just tend to look at our oldest daughter and realise what being here gives her the opportunity to do. I look at how she has developed as a young lady.
In the meantime I have to keep myself occupied. I am focused on the positives.  No doubt Skype will be getting hammered in the next couple of months staying in touch with friends, family and athletes a like. These days there are so many ways to stay in touch with people, so that is a good thing.
Its a funny time of year!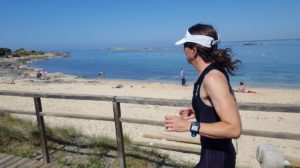 As for my coaching at the moment, its a funny time of year. Some athletes have just finished their season and are either having an end of season break. For these guys I have been going through their strengths and weaknesses and planning on how we are going to develop for next season.  So I get to do things like evolve sessions, write strength programs and work on technique for the next couple of months.
Some athletes in WA are coming up to their big race Busselton 70.3. So we are putting the finishing touches to their race plans, to enable them to have a great race next weekend.
Then I am lucky enough to have athletes else where in the world, some of who are just starting their seasons, so that puts a different dynamic on writing their programs.
I am also constantly self assessing myself and working on how I can be better. How can I enable F4L athletes to be better through my coaching? What do they need to develop? How can I facilitate that? I will sit down with the athletes in WA at one of our team meetings and help them take some ownership on how they want to improve going forward too.
I know one of my weaknesses as a coach is not taking enough time off as a coach. Not giving myself a break. Its hard in this sport. Athletes have different goals at different times of the year. When, as a coach, do I take a break?
When do I take a break?
I continue to work on that. I am taking a full day off each week, but I am also planning to take full weeks off from time to time.
One thing we have not done is take as many holidays from Perth as we used to in England. There is so much to see in WA but world is bigger than that. I have made myself a promise, that as a family we should actually go away from WA a couple of times and explore. As the (Bendigo) advert says, "The world is bigger than Albany, I want to be a part of that."
As for my golf, well that had to take a bit of a back seat for the last couple of weeks... been kind of busy! However, back on the range yesterday.  Yes, folks, that is a 175 meter 5 Wood off the carpet down the middle!
I have also started learning Spanish. It is one of the ways I can definitely improve the Mallorca camp next year. Just doing 10-20 minutes per day. I am actually really enjoying it (was always crap at this sort of stuff in school!), and I am determined to be able to speak the language next year.  An announcement is coming soon about the 2018 Mallorca Camp...