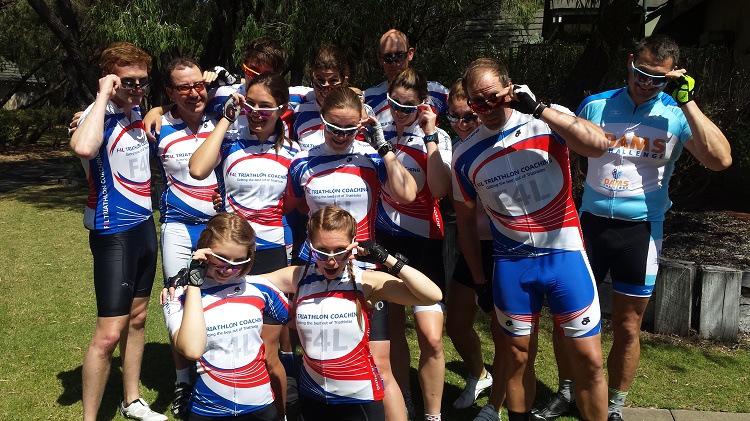 One of our junior athletes, Catherine, describes her first experience of an F4L Triathlon Coaching Camp: One year in now, so time for my first
F4L Triathlon Coaching training camp
. To be honest I don't really know what I was expecting of a triathlon training camp. The drive down to Busselton, as always, was filled with lots of singing (particularly Taylor Swift) and lots of games of eye-spy. We got to stay in three-bedroom villas which meant that we really got to know our F4L Triathlon Coaching team mates better. We were divided into teams for cooking each night. On the first night the team created a choice of salmon or chicken risotto (or a combination of both) and on the second night the other team raised the stakes with spaghetti and meatballs and/or chicken paella. It's fair to say that we definitely didn't have a shortage of food with plenty of cakes and slices and fruit for morning and afternoon snacks; one of the many bonuses of being a triathlete. I was a bit freaked out about the training before the camp, mainly because I didn't think I was capable of doing it all but as mum always says; "Paul will never get you to do something that he didn't think you could."  I had heard from friends in other clubs that their training camps were basically a bunch of days filled with extremely hard training sessions – something that benefited you in the long run but during you were counting down the days and hours until it ended. Although I was very excited about the camp, I had this sort of idea lingering in my head, even though I was certain our coach
Paul
would never do something quite so silly. I need not have worried!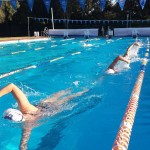 1. Swimming: we got to swim in an outdoor pool, something which I really loved. There is something really satisfying about breathing in fresh air whilst swimming. I personally really enjoyed each of the training session and found that I got a lot out of them. Being on a training camp gave me the time to really sit back and focus on improving my technique like my catch and tumble turns – something I think I managed even if only a little bit.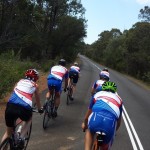 2. Cycling: cycling down in Busselton is amazing. Cycling along the beach and then through the endless paddocks of Dunsborough and vineyards of Margaret River is something I would gladly go back and do again. For me, riding down in Busselton made me realise how important it is to sometimes slow down and take in your surroundings – like for example when we stopped to take photos of the kangaroos all lined up under the trees. With cycling, as with swimming, I was able to practice small things, like getting my drink bottle out. I feel like I gained a lot of cycling confidence over the four days.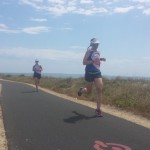 3. Running: prior to the camp I had been struggling a bit with running, mostly to do with motivation. If I'm honest, I dreaded the first running session. I really enjoyed the run sessions, although the runs were long and hard, they were actually really nice and I felt pretty good. I feel like I have now got my passion and motivation for running back. The camp wasn't just about training. We also had a team-building seminar where we designed the 'perfect triathlete' and anti-magpie helmets (watch out for the MagLid). We also had a lot of time to just relax. The beach was in walking distance so a few of us went down and watched the sunset and were photobombed by dolphins. I personally spent a lot of my free time down at the beach with various others. A few of us even had a midnight feast at 9pm because, why not and we even got up early to watch some of Kona.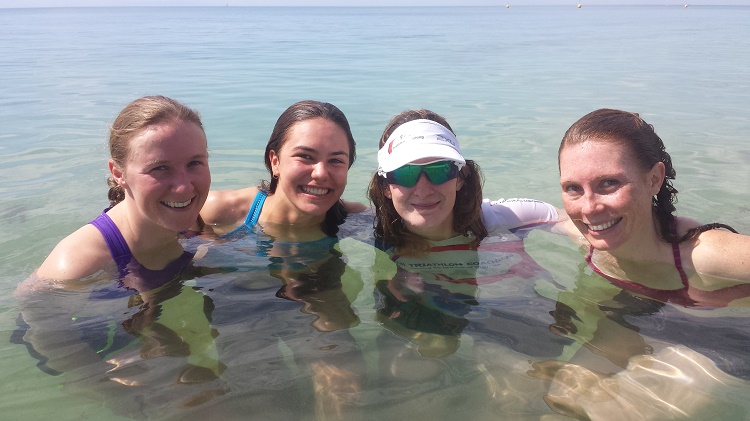 The camp for me was an experience that I am ever so grateful for. It made me sit back and really think about why I am doing triathlon. It gave me a chance to focus purely on triathlon and focus on my goals. Just from this camp I think a lot of pressure I had put on myself disappeared and I reminded myself that ultimately triathlon needs to be fun. I couldn't be more grateful to be part of the F4L Triathlon Coaching team. The athletes are some of the most inspirational, supportive and encouraging people.  I now understand why Paul often says athlete's are part of an F4L Family... Thanks to my brilliant coach, Paul, for an awesome camp.  This camp has not only made me physically stronger but has also made me mentally stronger. I can not wait for the next one. Bring on the season ahead – it's going to be great! Oh and if you are even considering a
training camp
next year you NEED to check out F4L Triathlon Coaching.