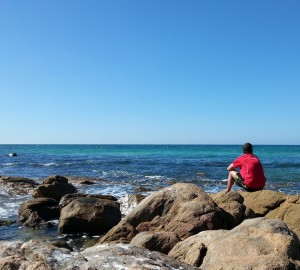 I do this sort of really useful exercise with the F4L Triathlon Coaching athletes regularly and it is a massive benefit to those who completed it... so thought I would post it here! I've been thinking (dangerous I know!) but there is always a need to work on some positive psychology... I'll explain…. You've been training really hard to achieve your best results at your A race and something happens during the race that gets you down... maybe you get clunked on the head in the swim, lose your bearings a little bit and come out of the swim saying, "I had an awful swim!" Or, during the bike phase your chain comes off, you lose your momentum and have to stop, put the chain back on... feel like you can't get your rhythmn back... before you know it you're saying "I've had a shocking bike!" So I've put a list of questions below... let's call it
"The what if scenario"
... I'd like you (individually... no conferring!) to write your answer down for what you would in that situation and write a positive statement for when that happens.
For example:
You get swum over in the swim....
come back to the surface, slow down, control my breathing, sight the buoy, get back into my rhythm... stay relaxed focus on MY swim, count 1,2, breath and get on with it.
Let's begin - please imagine this is
your
'A' race scenario:
You can't get your wetsuit done up and race start is approaching...
Your goggles snap before race start...
You trip up entering the water, perform a complete 180 degree flip and land in a heap...
Some goon dunks you about 20m after the start...
You can't find your bike in transition...
Puncture on the bike..!
Your handlebars come undone...
You lose your drinks bottle on the bike...
Your gears are working but not very well...
Your chain falls off...
You see someone drafting...
The referee pulls YOU for drafting...
Someone goes past you that you think you should be in front of...
You fall off - but everything is still intact...
You see a team mate having crashed at side of road...
You don't feel so good on the bike...
You lose your number belt...
You feel awful at the start of the run...
You go through a bad patch (as in not feeling great... legs not playing)... There are plenty more of these scenarios but remember I want you to answer the following: A. What would you do? B. Make a positive statement about the situation. By answering these questions you will get the benefit of already having an answer to these scenarios if they happen, and then being able to take a positive out of it whilst its happening.
By Paul Jones
Paul is a Level 3 Coach based in Western Australia. If you are looking for some assistance in your training for 2015 and beyond then check out
F4L Triathlon Coaching's website
for more information.