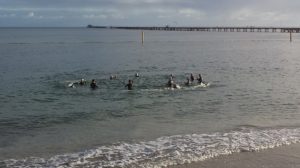 What a weekend that was! On the Saturday we had arranged an early morning sea swim which turned into a some games in the water with some relays to keep everyone relaxed - help with water confidence and have the desired effect of getting prepared for the next day. After the swim the group immediately set off on a spin around the lanes in Busselton and thanks to some awesome navigating we to to see a few dead-ends and some building sights.  Oh the group was treated to a stunning rendition of the Bare Necessities of Life from
Team Stack
!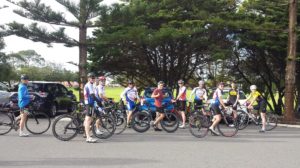 The ride was good natured and again allowed everyone to relax pre-race. In the race we had many of the WA based F4L Triathlon Coaching Team competing.  Some doing their first ever 70.3... others going for personal bests... some taking part in various relay legs and There were some stunning performances from the Team and I am mega proud of each and everyone of them. Individuals (PB = Personal Best for any 70.3)
Liam Randell - 4:34 (PB)
Chris Evans - 4:40 (PB)
Martin Cope - 5:05 (PB)
Matt Kraus - 5:06 (PB)
Ashley Slocum - 5:08 (PB)
Steve Boud - 5:10 (PB)
Sean Goldstone - 5:14 (PB)
Svetlana Elliott - 5:14 (PB)
David Corcoran - 5:14 (PB)
Rob Blascetta - 5:43 (PB)
Naomi Evans (plus bump!) - 6:39
Athletes taking part in various Teams
Mark Elliott (swim)
Piera Otness (bike)
Sharnie Gator (run)
David Gulland (bike)
James Berry (bike)
I am sure that all the athletes will join me in thanking all the F4L supporters who came down to cheer / support / encourage their team mates.  It was a fab weekend to (almost) finish the 2015/16 season down under.
Liam has written his humerous race day report (which is worth a read) here
By Paul Jones
Paul is a Level 3 Coach based in Western Australia. If you are looking for some assistance in your training for 2015 and beyond then check out 
F4L Triathlon Coaching's website
 for more information.