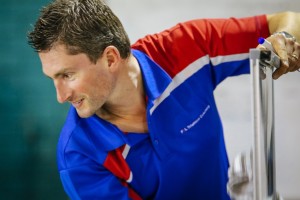 I love coaching Triathlon.  Outside of my family, it is my passion, my work and my motivation.  Now and again though, I wonder if I am good enough.
Despite years of coaching, all the qualifications and training, constantly backing myself to be able to deliver, I am often filled with self-doubt.  Whilst I try desperately not to show this on the pool deck or to an athlete... it is there.  
Like athletes, who can often have self-doubt, you had better believe that coaches do the same.  We all do, no matter what we do in life.  Well, I doubt Donald Trump does, but who really wants to be like that?  I am not going to comment for anyone else but this is about being open and honest about me.   
As the saying goes, "An athlete is only as good as their last race."  But if they mess it up, there is usually another race coming up.  As a coach, I cannot think like that.  
When an athlete has a good race, its easy.  
You are proud of their achievement.  You share in their joy at success.  When they have a bad race, however, its different.  If they have given their best, I am still proud of them.  To be honest, I know that I am proud of every single one of my athletes, everyday.  They motivate and inspire me to get up and be on the pool deck at 5:30am or to be there early on a Sunday in winter in the pissing rain.  
Of course, triathletes can do your head in sometimes... but then so do our kids, but we still love them and are proud of them (most of the time).
It is only natural that an athlete will blame their coach if it goes wrong.  Hey, that's part of the game.  You have to pick the athlete up, dust them down, put them back on their bike, get them back into the water and re-energise them.  The great athletes, will review their races and seasons, think about what went wrong, what went right, learn from it and move on.  
As a coach, part of my job is to re-instill their confidence.  We go back into training, practice the skills which in turn build confidence.  We train with the mantras such as:
Excellence in training leads to excellent performance
Perfect practice makes perfect
Obviously I try 100% to deliver my best everyday, in my coaching, to my athletes and for my family.  Despite many recent successes with athletes, we can't win or achieve a personal best all the time.  When you are the one picking up athletes, motivating them, encouraging them... self doubt creeps in... and... from time to time its possible to forget why I do this...
I do this because I love it.  
Recently, I received an email from an athlete.  It reminded me why I coach, why I deliver sessions I do in the way I do.  It made me incredibly proud not just to be their coach, but to coach a larger group of athletes, which has developed into the team it has.
I made several changes to this athlete's training program when they joined.  At F4L we don't just focus on 'doing the miles' but on skills, technique a sense of achievement and having fun.  We do this with every session that we deliver.  With the athlete's permission, I have included some extracts of the email below:
Bike skills sessions (what is with picking a drink bottle up from the ground whilst riding? and oops sorry I almost ran you over!)
Group riding (damn I am slow going down hill)
Swim squad ("holy cow!" inserted here) and lake swimming and
Then there is the brick sessions (transitions apparently need to be a little more timely than in the Ironman...)...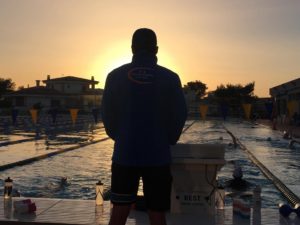 I think I have forgotten to mention another change - interval work - just WOW.  
I am finding this exciting because each new interval session I get gives me new achievements - a new session I have not done before - which means another accomplishment and feeling good about it.  Whilst I was not bored with my past training this new atmosphere and the new challenges have certainly sparked some new life into my training and my thoughts.
There is so much to learn from being in the F4L group... and this sure is a great group to be with. Everyone has been so welcoming and supportive.  So for this I say a big thank you 🙂 It feels great to have other triathlon people around me, and to rock the gear as it makes me feel proud to be a part of F4L Triathlon Coaching and the wider community of Phoenix Triathlon Club.
You want to know why I coach?
My name is Paul, I coach Triathlon because I love it... and I am cool with that.