The Premier Triathlon Team in Perth
Athlete Centered, Coach Driven and Performance Focused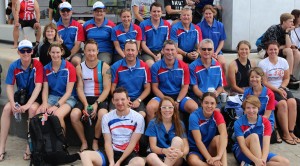 The large majority of our athletes in WA are on formal individual training programs with F4L Triathlon Coaching. These programs are developed following an initial screening where our coaches find out important information about the athlete.  For example: time available to train, current ability & past performances and future goals. From there an initial program is set out.
Triathlon Coaching:
We write programs for all distances of Triathlon from Sprint through to Ironman, for all athletic abilities. We have an awesome Junior Triathlon Team -
check out the Junior Academy
For the 2016/17 season we are coordinating our efforts and maximizing the F4L Triathlon Team effect at certain races throughout Western Australia. F4L "Feature Races" are races that Paul Jones will attend. These races will have a lot of participation from F4L athletes and are a great way to show your F4L pride!
School Sport WA Championships (3rd November)
Left Bank Triathlon (13th November)
State Sprint Championships (11th December)
Albany Sufferfest Triathlon Festival (3/4/5 February)
Karri Valley Triathlon Festival (18th March)
Busselton 70.3 (7th May)
Head Coach, Paul Jones ensures a friendly relaxed environment to help get the best out of athletes.  There are many opportunities to mingle with other like-minded athletes at coffee after training or through our regular F4L Team get-togethers. All the upcoming casual F4L Triathlon Coaching squad swims, group run sessions and the starting points for our group rides are on the 
F4L website here
F4L Triathlon Coaching delivers these sessions primarily in the Perth Hills area, making use of some fantastic facilities for Triathlon. Within F4L Triathlon Coaching we have a fantastic team of athletes – if you want to be part of it and would like more information on our 
coaching programs click here
.