Last week was our Busselton Training Camp, open to athletes in Western Australia.  What do you expect to get out of a triathlon training camp?  Depends on who you are and what you are training for and what your coach intends you to get out of the camp. This year's F4L Busselton camp was different to previous years as we are mid-race-season (normally we hold it pre-season in September & October but we were expecting our second child around that time and I thought it would be prudent to be there for the birth - as it turns out, I was essential as the mid-wife only arrived a few moments before Sophie did.  But that's another story...) Anyway back to the camp - we never went with the intention of going and doing big miles for this one.  None of the athletes were building to an Ironman and most were looking to sharpen their fitness and develop some of their non-athletic skills. The training plan had been outlined for the week, but anyone who knows me by now, knows that those plans can change.  Maybe the athletes are getting tired, maybe the weather has turned against us, or perhaps someone suggests a ride that turns out to be tougher than expected...
"Plans should always be written in pencil." - Toni Minichiello
I had split the athletes into teams to help with cooking (each team cooked one night for all the athletes).  The team also then carried through to the seminars, cycling, videos of the camp and generally a bit of fun.  The seminar revolved around 'All the little things" which can help with your training and racing, including warm ups, eating, time management, improving sleep patterns and equipment maintenance.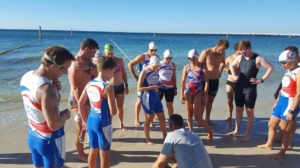 The videos will probably be the most eagerly awaited releases since "Star Wars - The Force Awakens" (someone bet me I couldn't get Star Wars into this) and will pop up here in the next couple of weeks! Mid camp we had the added bonus of heading the Shark Net at Busselton Jetty for what was supposed to be short fast fun team aquathlon (at the end of a tough Friday)... it ended up being not quite as short as planned as Busselton Tri Club had their Splash & Dash and invited us to join in.  Well, it would have been rude not too... thankfully I can still swim quick, for a short distance, and managed to avoid a mass F4L dunking... it was still fun. And then the club invited us to do their training swim, bike & run on Sunday too...
it was all good as they provided breakfast!
Actually doing these sorts of sessions was perfect for what I was trying to achieve at the camp, and whilst (some) of the athletes moaned, I actually got the impression they all enjoyed it.
Recovery is probably the biggest thing that the athletes on camp have taken away.  You could see all the compression gear come out (CompresSport if you would like to contact us about sponsorship I am sure we can sort something out!) - the foam rollers and massage balls were being used - the juniors actually rested - I have a photo to prove it... see! For me the camp was an incredibly rewarding challenge, training camps always are.  It might be one athlete improving their swim, or another nailing a skill, but the biggest challenge / reward is to get 18 athletes to gel together, to work for and help each other.  To get those athletes to take ownership of things they can control.  To get them to come together when absolutely necessary.  All that in an individual sport... oh and we did plenty of swimming, cycling and running too.
So what does this coach expect to offer at a camp?
Well, my aim is to work the athletes hard, pushing them to their limits, getting them to learn from the coaches, their experiences and others on the camp but keeping them injury free and having fun. I know one of the athletes is going to write about all the fun they had at the camp so I'll sign off there. Fancy joining us in Mallorca in April for our European camp - our camp is open to all triathletes who want to have a focused week of
triathlon training
in a relaxed atmosphere. We will work you hard throughout the week and each session will have a focused objective but we aim to create a fun environment around the training sessions too. It doesn't matter what you are training for.
For more information CLICK HERE