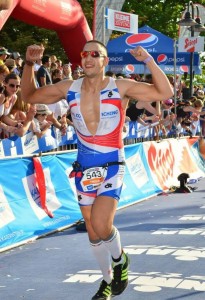 What is the attraction of the half ironman?
I know what it was for me as an athlete... you could enter an event somewhere in the world, travel to the race, see the local area and then have a holiday.  Your holiday would either be local to the race or perhaps a little but further away.
Another thing half ironman race allowed was to race against the elites. It was a challenge... without having to bank ironman style training of long rides and runs.
Times have changed a bit now.  We have staggered starts, either waves or rolling starts.  The events are bigger and often more commercialised than ever before.  Entry fees continue to rise.  So some of the attraction is fading.  There are many more events now which means lots of options on where to race and have that holiday.
Many athletes that I have coached, simply want to complete the event.  And that is brilliant.  For some finishing a half ironman is a major achievement... for others though, they want more...
A personal best half ironman time (ah... the attraction of Busselton!)
A world qualification spot... the bigger the race, the harder that challenge.
To beat a mate
Or to simply enjoy the event and execute a good race.
Whatever your attraction or goal it unlikely you can just rock up at a half ironman and smash it!  You need to do some sort of training plan to help you get the most out of your travels... and still be able to walk during that holiday!
You can buy off the shelf training plans here
Off the shelf plans are good, heck, I wrote these ones!  However, they are generic, they are limited in adaptation to the individual and they will help you get round... but if you really want to beat your mate, or achieve a personal best then you need something more.
"Stick to the plan, and your dreams may just come true."
"Paul has flat out made me into a better athlete!!! I work a full time job. Paul has accommodated my every training need; I finished IRONMAN Netherlands in 2nd place, Challenge Salou in 1st place and been to Kona... TWICE." - Helen
If you want a plan designed for you, written around the time you have available to train then you must get a personal training plan.
An F4L Personal Half Ironman plan is designed for those athletes who want individualised guidance to reach their potential and require higher level or detail for their racing preparation and post-race analysis.  Every session in this coaching option is prescribed around a training structure that suits you and your lifestyle.  Your training phases for the season are planned so that you can peak at the right time for that big race.
Consistent, Balanced and Sustainable Triathlon Coaching
In each of your goal races identified for the season, we research each race thoroughly and provide you with a comprehensive race strategy for you to execute the best tactical race.
You just won't get that from an off the shelf plan.
If you are looking to get fit for the 2017/2018 season in WA, you can sign up for a program with F4L Triathlon Coaching... now is the time to do that.