Happy New Year!
Have you made your New Year's Resolutions yet?
DON'T!
Athlete: "What do you mean don't make new year's resolutions?" 
Coach: "Well, I mean exactly that... DO NOT MAKE NEW YEAR'S RESOLUTIONS."
Set yourself goals instead.
Its not that complicated.  Why should you set goals rather than resolutions?
"We usually focus on what we don't want to do rather than what we do want. And we don't usually plan out how to sustain that resolution for a whole year. Perhaps that's why only 8 percent of people who make a New Year's resolution actually keep it."[1]
If you set yourself a goal rather than a resolution you are far more likely to achieve that goal.
So, what is the difference between the two?
A definition for a Resolution: a firm decision to do or not to do something.  Where as a goal is: the object of a person's ambition or effort; an aim or desired result.[2]
Now what?
Well, you have set yourself a goal.  An outcome.  You want to achieve something... whatever that is.  Let's take two examples for Triathletes (both of these have come from athletes I coach right now).
You want to finish an Ironman
You want to come out in the front pack of the swim regularly in Sprint Triathlons
How are you going to do that?
Neither of these things will happen over night.  Both will take some serious commitment and dedication.  So let's start breaking it down into smaller chunks...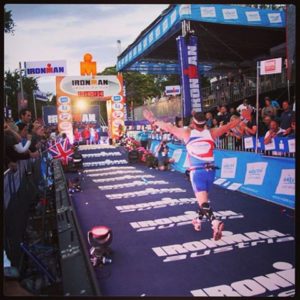 The Ironman:
Where are you now?
How many hours training can you commit to?
Have you asked your spouse?
Which race did you have in mind?  (If indeed you had got that far)
How long until the race?
Is this a realistic goal for 2018?
The swim:
Where are you now?
How much swimming have you been doing?
Can you commit to more swim sessions?
How are we going to achieve your goal?
Is it realistic?
Of course there may well be more questions than that between the coach and the athlete... but from those questions we can start to produce a plan.  Its not rigid... its not set in stone... but we also start to bring in smaller goals along the way.
Perhaps getting up to 100km on the bike in the next 3 months... or swimming a timed 400m 10 seconds quicker than you have previously... maybe working on some technique or perhaps some strength...
Start by nailing all the sessions in the next couple of weeks.
Make no mistake, it will not be easy.  Goals worth achieving rarely are.  You will have plenty of downs on your way up.  Having a coach to support you and help you on your journey is, in my view, essential.  I have said before a coach is so much more than someone who just sets your training plan.  They will be your mentor on this journey.  Your advocate, your counsel.  They will advise, caution, encourage, support and prescribe.
Get yourself into the routine... work with your coach and you will be on the journey to achieve what you set out to do.
Happy New Year.
What are your goals for 2018?