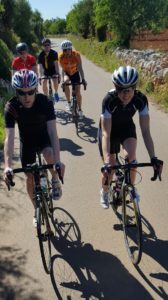 So training for an Ironman, Half Ironman, Triathlon in general, should you include a steady longer ride for the relevant distance and phase of your plan or one involving longer ride intervals?
You can choose one of the following:
Phone a friend (you know the one who has done one Ironman and now knows everything)?
50/50 (kind of in the question)?
Ask the audience (or in this case the club ride)?
Ask a professional Triathlon coach?
I have gone for option 4 on your behalf!  Here is my answer:
Well it depends... on the time of the season, what you are training for and what your 'steady' is.
Most training plans will (or at least should) include a longer bike ride, where athletes ride at a moderate intensity for a specified period of time.
However, in my professional opinion, you will need to include interval training within these rides.
Why?  Well, if you do a heart rate test and work out what your Heart Rate Zones are... you will often hear that your longer rides should be Level 2 or Base.  These rides have a place in a training plan.  Usually at the beginning of the base phase, or start of your training plan.
However, if you do all your rides at this sort of intensity, what are actually training your body to do?
You have taught yourself to ride slower for longer!  Well done.
Let's say, you are training for a half ironman (as we are).  You think you need to do a longer ride at the weekend and another ride to 'get the miles in' (Coach roles eyes and says, "So old school!").  You pootle* to work, then do your longer ride at weekends.  You do this for a few weeks, then do another Heart Rate test... and discover...
Your Max Heart Rate is lower!
How?  This is due to not making your heart work very hard... just for longer!  So you will adjust your Heart Rate Zones and discover you now have to ride SLOWER to stay in the new zone 2.  Brilliant.
How can we ensure this does not happen?
Throw in some simple longer ride intervals.
This is real easy to do if you ride on your own.  4x 15min at Half Ironman Pace with 5min spin recovery, or perhaps 40km on the Tri Bars at tempo pace, or zone 3 for example.
But we ride in a group on a Sunday?  They don't want me to add intervals, I'll have to ride on my own and that is my favorite session.  Indeed.  But... how many group rides have you been on, when they do not turn into a bit of fun over-exersion mid-ride and some of the group have suddenly got pro-contracts and are riding the Tour De France?  I suspect not many!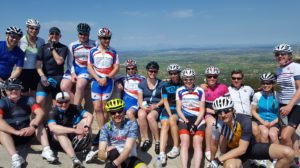 So, Jonsey's fun ways to throw in intervals to a group ride - without the other riders even noticing they are doing intervals - to raise the Heart Rate:
Hills - sit at the front of the group and make them work up the hill
Mountains - regroup at the top... we do this in Mallorca, when you get to the bottom of a climb, you can ride as hard or as easy as you like to the top.  The faster riders will push on, the slower ones will climb within their abilities.  Regroup in the cafe at the top.
Village Signs - sprint for village signs when its safe (then sit up and allow the group to re-form)
Speed signs - add up speed sign victories (bit like the green jersey in the Tour De France) 50 limit = 50 points
Ride home hard from a certain point - agree a point in the ride, when everyone knows where there are going, when you are free to push on... something like 5-10km from home.
You can do some of these on your own, during that 'pootle' to and from work.
Push your heart rate up
I hope this helps make your longer rides more fun, keeps the group together and pushes your Heart Rate up a bit in the process.
I will say this though, while these are fun and we are trying to get athletes through their half ironman... if you want to perform at your A race, you have to do what is right for you as an athlete.
I'll offer an example, last week our group ride was made up of people training for a variety of different Triathlon events.  The aim of the session was to get a solid base ride in, but also included an extended interval to practice riding at a good pace.  Just for the record it was horribly windy which was a whole another challenge.  In the extended interval, we rode at a pace we could sustain as individuals.  It wasn't a race.  We then re-grouped and continued the ride together... although the last 5km some decided to push on!
Another example, is the rider who meets with the group, having ridden the extra to get there... done an hour with the group to get their social interaction, then done their own efforts.
Paul is a British Triathlon Level 3 Coach.  He has been coaching Triathlon for many years.  IN that time he has coached athletes to Hawaii Ironman, Half Ironman World Championships, ITU World Age Group Championships, countless first time achievements and personal bests.  He runs training camps in Mallorca and Western Australia.  If you need help with your triathlon training, and if you can find them, maybe you could hire F4L... sorry that's poor!
Pootle is a technical coaching term for riding along without too much effort, getting the miles in!